Photo: Her Excellency Lily Li-Wen Hsu, China's
ambassador to Belize and Her Excellency
Dame Froyla Tzalam
by Kristen Ku
BELMOPAN, Mon. Feb. 27, 2023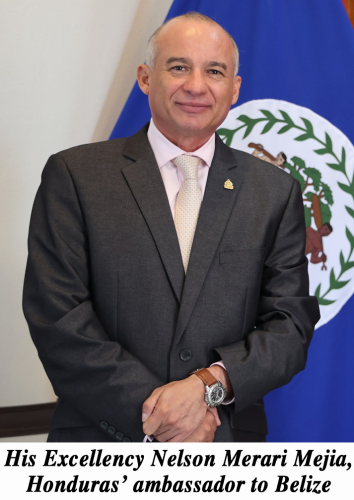 On Monday of this week, Belize's Governor General (GG), Her Excellency Dame Froyla Tzalam, welcomed new ambassadors to Belize from the Republic of China (Taiwan) and the Republic of Honduras.
Her Excellency Lily Li-Wen Hsu, Taiwan's new ambassador to Belize, who is replacing His Excellency David Kuan-Chou Chien, during her remarks highlighted the common values shared between Taiwan and Belize such as freedom, democracy, and the promotion of people's well-being, as well as world peace.
His Excellency Nelson Merari Mejia, Honduras' ambassador to Belize, who is replacing Her Excellency Mrs. Sandra Rosales Abella, was also welcomed by the Governor General and also pointed to the values shared by his country and Belize.
Both ambassadors pledged to strengthen the relationship between the countries as well as to further advance their mutual interests.
Finally, the GG offered her best wishes and pledged continued cooperation as the ambassadors commenced their terms in Belize.