8 areas of southside Belize City under lockdown; Constitutional rights suspended
BELIZE CITY, Thurs. Mar. 19, 2020– Between Friday night and Tuesday afternoon, Belize City experienced a deadly surge in gun violence that left 7 persons dead, including two 5-year-olds, who were shot while they slept in their homes.
Apart from the fatal shootings, at least 8 persons suffered from gunshot injuries and had to be rushed to the Karl Heusner Memorial Hospital Emergency Room.
By the early hours of yesterday, Wednesday, authorities responded to this spike in violent crimes by declaring a state of emergency in eight areas on the southside of Belize City, where the most intense gang rivalries occur.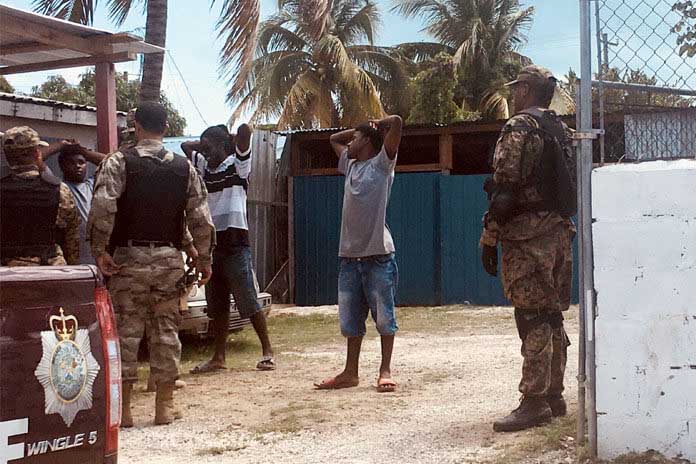 The boots of 250 heavily armed police and soldiers stormed into the areas covered under the State of Emergency before sunrise, closing off entry into the neighborhoods and rounding up known gang members and associates, and before the morning was over, more than 80 persons were in police custody—their constitutional rights suspended under the emergency measures that were put in place to curb the violence.
Those who had been caught up in the legal dragnet of the emergency measures were processed and transported to the Belize Central Prison, where they will be detained for at least one month.
A similar State of Emergency was put in place in September 2018, but that only covered 6 areas on the southside, and was for a period of 30 days, unlike the present measures, which cover eight areas.
By afternoon, the Ministry of National Security held a press conference at the Queen Street Police Station, where the media was briefed on the early morning police and Belize Defence Force operation that had locked down the 8 areas on the southside.
Minister of National Security and Attorney General, Michael Peyrefitte, explained why the emergency measures were put in place.
Minister Peyrefitte said, "As you know, there's been a recent increase in extremely senseless violence within the city. You know it's bad enough when somebody dies in a matter of violence; it is extremely extra painful when it involves the death of an innocent child. Based on those activities, the Ministry of National Security has deemed it necessary and sought the approval of the Governor General and we have gotten it, for him to declare a State of Emergency, and for him to sign some regulations governing the activities to be undertaken by the police, the BDF and Coast Guard, if necessary in the declared and demarcated areas."
Peyrefitte also explained the parameters of the emergency measures that were put in place.
"These people can be detained for up to 30 days. After 7 days, within 7 days, they will be told as to the reason for their detention. After 14 days, the public will get a list of those people. After that 30-day period, the government can decide, through the National Assembly, to extend it for up to a year and beyond that, if we have to. We are not playing with these people," Peyrefitte pointed out.
In commenting on the spate of violence that necessitated the emergency measures, Commissioner of Police Chester Williams declared: "Over the past few days, we have seen that these activities have become more increased and the criminals seem to become more emboldened in carrying out these senseless and heinous acts. It is reckless for one to just indiscriminately fire gunshots in a house not knowing who or what they're shooting at, and when children are on the receiving end of those bullets, it is heart-wrenching. I'm sure that all of us in this room are parents and we wouldn't want our children to suffer that fate, but unfortunately, it happened to some parents and we have to sympathize with them."
Assistant Commissioner of Police Marco Vidal, who heads the Belize Police Department operations, identified the eight areas as follows: "Zone #1 will be all that area bounded on the east by Sittee Street, on the west by Central American Boulevard, and running north to south from the Belize River to Vernon Street, encompassing all streets within.
"Zone #2 is all that area bounded on the east by Albert Street, on the west by East Collet Canal, by south by Cemetery Lane, and north by Cemetery Road and Orange Street, encompassing all those streets within.
"Zone #3 will be all that area bounded on the east by Oleander Street, on the west by McKay Boulevard, and running north to south from the Belize River to Mahogany Street, encompassing all streets within.
"Zone #4 is all that area bounded on the east by McKay Boulevard, on the west by Chetumal Boulevard and running north to south from the Riverside Street to Mahogany Street into Holy Emmanuel Street, encompassing all streets within.
"Zone #5 is all that area bounded on the east of Western Avenue, on the west by Chetumal Boulevard, south by George Price Highway and north by Mahogany Street and Holy Emmanuel Street, encompassing all streets within.
"Zone #6 is all that area bounded east by Youth For The Future Drive, south by Vernon Street and Sittee Street and north by the Belize River, encompassing all streets within.
"Zone #7 is all that area bounded west by East Collet Canal, north by Belize River, east by West Canal and south by Cemetery Road, encompassing all streets within.
"Zone number #8 is all that area of land bounded east by Central American Boulevard, north by the George Price Highway, south by Neal Pen Road Extension, west by Baldwin Drive and all streets within."
Commissioner Williams, who has spearheaded years of intervention along with other social workers and community activists to bring about peace between the warring gangs of the city, declared: "We have done a lot in terms of talking. CYDP have been extremely busy over the past few days trying to reason with these young men, bringing them to the table to reason with each other, and it goes through one ear, and come out through the next ear.
"When they get back on the streets, they're back to their senseless behavior. Well, I listened to a talk show this morning and I heard a good friend of mine say on that talk show that he believes that more could be done by talking. I don't know how long should we be talking, why should we be talking when children and innocent women are being shot and killed.
"Mr. Broaster can tell you, he has been talking from 1994 —we'll continue to talk for another 25 years while people are suffering, people are dying; I say no. The time for talking is done and so going forward, my message to the gang members is this: if you want to live in society peacefully, it is your duty to adjust to society behavior and know the society, to adjust your behavior, and so, we will be going after them, night and day.
"Mr. Vidal, who is Commander of Operations, has been tasked to oversee the day-to-day operations in Belize City where those gang members are concerned, and the reason for that is because we are not going to relent, we are going to make them understand that the society has gotten enough of them, and as police, it is our duty to give the society that sense of safety and security that they so rightfully deserve, and we will do our part to ensure that is done."
With the country battening down to resist and fight the COVID-19 pandemic, Commissioner Williams said there would be no space for gangsters at the hospital's Intensive Care Unit.
"At the expiration of the one month, as the Minister has said, we will be making representation to the government and ask for an extension because we believe that with all that is about to happen, the COVID 19, we cannot have the ICU in Belize City filled with gangsters with gunshot injuries.
"Then, when your grandmother or your grandfather get corona and need the ICU, there is no space for them; it cannot work. The ICU must remain open and vacant for those persons who may catch the coronavirus and may need to use the ICU," Williams pointed out.
The Belize Central Prison, too, is doing its part to put in place preventative measures to fight the coronavirus. The prison announced, through a press release yesterday, that it is suspending regular visits until further notice, in light of the coronavirus pandemic.
Feature photo: (l-r) Hon. Elodio Aragon, AG Michael Peyrefitte, Compol Chester Williams and ACP Marco Vidal