BELIZE CITY, Mon. Mar. 16, 2020– Shortly after he was released from detention at about 8:30 Friday night, after spending 48 hours at the detention center at the Queen Street Police Station for his suspected involvement in a robbery on Albert Street which occurred on Wednesday afternoon, Fredrick Williams, 18, an unemployed resident of Partridge Street Extension, went to his home, where he would later be killed.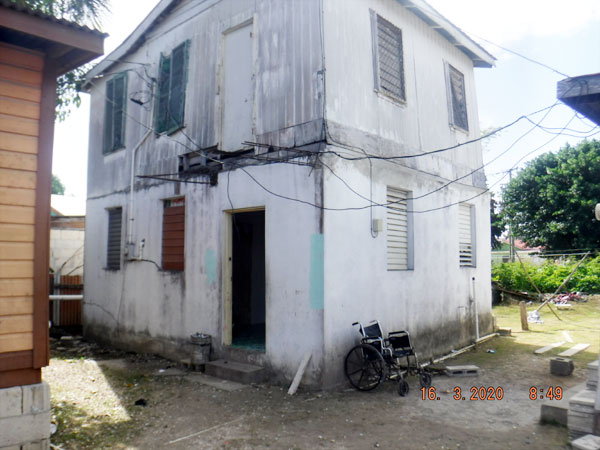 Williams' house where he was shot and killed
At about 10:00 that Friday night, while Williams was playing games with his two brothers in the lower flat of his family's two-flat house, a man, armed with a gun, suddenly kicked in the door, went into the house and fired multiple times at Williams, hitting him in the stomach and leg.
The shooter then ran out of the house. Williams was rushed to the Karl Heusner Memorial Hospital, where he died shortly after.
Williams' two brothers were not injured.
Lafaye Lewis, Williams' mother, told us that he was to have been released from police custody at about 11:00 Friday night, and when she went to the police station, along with a friend, to pick up her son, she was told that he had been released and had gone home.
She went to her friend to tell her that Williams had been released, and her friend invited her to sit down, but she had an uneasy feeling and sensed that something was wrong.
Lewis' friend insisted that she sit, but she was adamant that she wanted to go home, and that was when her friend told her that her son had been shot. She rushed home and was told that Williams had been taken to the hospital.
On her arrival at the hospital, she saw Williams, who was conscious and was talking. He told her that he loved her and that he was strong, but that he could not feel his legs. He also said that he did not know the gunman who shot him.
He then asked her not to cry, then hospital attendants took him into surgery.
Shortly after, she and other family members who had gathered at the hospital were told that he had died.
Lewis said that her son had not harmed anyone, and that she would leave everything in the hands of God. She strongly rejected the idea that he was involved in the robbery that police had been investigating, and said that he did not have to rob anyone because he was not in need of anything.
Williams was her second child. She is not sure why he was murdered, but believes that he must have been targeted by the rival groups in the area.
On Wednesday, Williams was reportedly beaten by a man on Albert Street, and when he went home, he told Lewis that a vehicle had been following him.
On our visit to the family, we saw that there are four houses in the yard, and the house in which Williams was shot is about 60 feet from the road, so the killer had to know to which house he was going.
It was also suggested that Williams was followed by the killer when he was released from the police station after the detention, but this could not be verified.
Lafaye Lewis said that her son was loving and humble, and always had a smile on his face, and he was well-loved.
Williams' mother said that this is not the first time he had been shot. Two years ago, Williams had been shot by police, she said, but he had recovered. The details of that shooting were not revealed.
Police said that so far no one has been arrested for the fatal shooting, and the motive for the murder is unknown.
Feature photo: Fredrick Williams, deceased