3 teams in quest of 2 remaining playoff spots
BELIZE CITY, Thurs. Nov. 22, 2018– Only Week 14 remains in regular season, after 2 back matches were played this past week in the Premier League of Belize (PLB) 2018-2019 Opening Season; and the 2 remaining playoff spots will be decided this weekend among San Pedro Pirates FC, Altitude Assassins FC and Police United FC, none of whom will be facing one another in Week 14.
Following the postponement of PLB Week 14 games due to the Concacaf Nations League match featuring Belize vs Puerto Rico last Friday night, Police United played the first of two back matches on Saturday night, November 17, and pulled out an important 3-2 victory against rivals Altitude Assassins at the M.A. Stadium in Independence. Carlton "Fubu" Thomas struck twice in quick succession (79' & 82') after Danny Jimenez (26') had opened the scoring for Police United; while the Assassins got a goal each from Ronaldo Vergara (30') and Miguel Garcia (92' PK).
Then last night, Wednesday, at the Isidoro Beaton Stadium, it was the veteran star, Orlando "Leechi" Jimenez (18') putting Police United in front early; but a late goal from Wagiya's Christopher Cruz (94') resulted in a 1-1 stalemate.
The stage is now set for high drama this coming weekend, as San Pedro Pirates FC is in the "driver's seat" with 19 points (See updated standings below.), while Police United FC and Altitude Assassins FC are now  tied at 18 points apiece.  The Bandits and Verdes are safe with the first two playoff spots; and Freedom Fighters, Wagiya and BDF are out of playoff contention.
There are still a number of possibilities, and "none of the three is safe." However unlikely, a loss by San Pedro and a win by both the Assassins and Police, would push San Pedro out of the playoffs. San Pedro Pirates are considered "in the driver's seat" because their opponent at home this weekend in San Pedro is 7th ranked Wagiya; while Altitude Assassins and Police United will clash with the two league leaders, Belmopan Bandits and Verdes, respectively. A loss by both teams, Police and Assassins, would secure one spot for San Pedro, while also giving Police the other spot by virtue of goal difference over the Assassins. A draw by both will also favor Police, as the Assassins would not be able to wrest the spot from San Pedro Pirates, even if they should lose to Wagiya, due to goal difference.
"Mek wi go da di football game!  Mek wi go da game!!"  This weekend should be fun!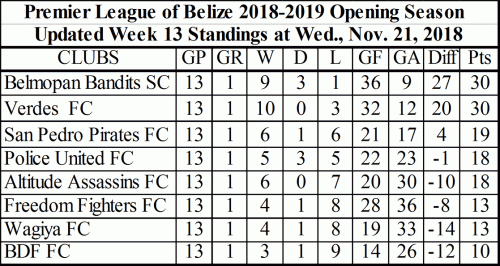 The Golden Boot will also be decided in Week 14 games this weekend.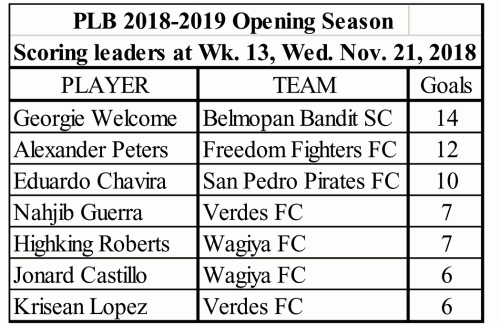 PLB Week 14 schedule:
Saturday, November 24
7:30 p.m. – San Pedro Pirates FC vs Wagiya FC  –  Ambergris Stadium
7:30 p.m. – Altitude Assassins FC vs Belmopan Bandits SC  –  M.A. Stadium
Sunday, November 25
4:00 p.m. – Freedom Fighters FC vs BDF FC  –  Victor Sanchez Union Field
4:00 p.m. – Police United FC vs Verdes FC  –  Isidoro Beaton Stadium