BELIZE CITY, Thurs. Dec. 5, 2019– Playing at home proved no advantage to our Belize National U-15 Jaguars, whose 3 outings resulted in two 1-1 draws, against Nicaragua and Guatemala, and a 2-0 loss yesterday against El Salvador. (A win over El Salvador would have put us into second place and a spot in the semifinals.) This puts Belize at last place in our group; but at least we were competitive, with no lopsided losses. And we did draw against Guatemala. Congrats, youths!! "Belize in the Process!" We'll do better next time. (See final standings below.)
The 7 Central American teams were divided into Group A – Belize, Nicaragua, Guatemala and El Salvador; and Group B – Honduras, Costa Rica and Panama. After a single round-robin in each group during games on Monday, Tuesday and Wednesday, and a rest day today, Thursday, the top 2 teams from each group will advance to the semifinals tomorrow, Friday; and then the finals will be on Saturday at the Isidoro Beaton Stadium. Our Belize U-15 Team, along with El Salvador and Panama, will be among the spectators for the playoffs on Friday and Saturday.
On Monday, December 2, Costa Rica and Honduras drew, 0-0; Guatemala won, 2-1, over El Salvador; and Belize drew, 1-1, with Nicaragua.
On Tuesday, December 3, Honduras and Panama drew, 0-0; Nicaragua won, 2-0, over El Salvador; and Belize drew again, 1-1, with Guatemala.
And on Wednesday, December 4, Costa Rica won, 1-0, over Panama; Guatemala won, 3-1, over Nicaragua; and Belize lost, 2-0, to El Salvador.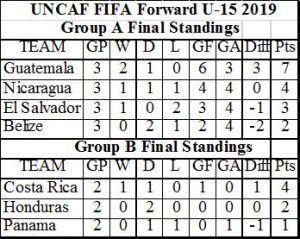 Semifinals schedule tomorrow at Isidoro Beaton Stadium:
Friday, December 6
4:30 p.m. – Costa Rica vs Nicaragua
7:00 p.m. – Guatemala vs Honduras
The 3rd place and championship games will be at the same times on Saturday.