by Kristen Ku
BELIZE CITY, Thurs. Mar. 9, 2023
As of recent, there have been an increasing number of house fires that have destroyed people's belongings and left many homeless. A number of these have been the result of illegal electrical connections.
For instance, just last week, two families in Belize City were victims of a house fire that gutted their residence, one in the Taylor's Alley Industrial Zone and another in the Lake Independence area. These fires left behind little to no remains of their belongings.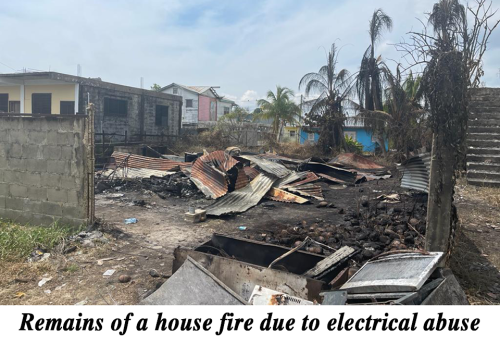 These are just the most recent of a string of house fires that have flared up in various parts of the city.
Reports have shown that a majority of these fires were caused by electrical abuse – illegally accessing electricity from the power line.
Illegal Power Connectivity is a dangerous game that doesn't always get talked about, but is instead a "hush-hush" situation some families find themselves in.
While it may seem like the most economical thing to do to obtain electricity, it poses serious threats.
You see, distribution companies, such as Belize Electricity Limited (BEL), for example, would evenly distribute electricity to homes based on the number of people who reside there and the number of appliances. This control is quite an essential step when drawing electricity.
On the contrary, electricity abuse is an open gate for people to draw massive amounts of electricity, and sometimes more than what they can handle. As a result, the overload of the system has caused power outages, electrocution, and fire outbreaks, affecting not only one household but sometimes even an entire neighborhood.
Kenneth Mortis, the Station Supervisor of the Belize City Fire Department, explained that in the span of one year, approximately 15% of all house fires in the city have started as a result of illegal connections. And in 2022 alone, 55 structures throughout the country were destroyed (due to this same cause).
Mortis added that not only is this illegal practice wrong, but he emphasized how unpredictably fast the resulting fire can engulf a home.
"Stop! It's illegal! What you're enjoying for free now will have a negative end result sooner or later. It will be a matter of time before what you've worked years to build and call home goes up in flames; they always do," he said.
Unfortunately, a big reason why this type of activity even occurs is simple: people "bruk" – a reason many wouldn't consider valid, but a sad reality for a lot of Belizeans.
As a result, Amandala reached out to BEL to find out some of the options offered for households that may experience challenges in accessing electricity.
We received the following response:
"We caution the public that meter tampering, power diversion, and illegal electrical installations are unsafe and can cause serious injuries, electrocution, fires, or damage to property.
"BEL offers the following options for safe and reliable electricity:
"1. Households that cannot afford a service entrance, which is needed for safe and proper connection, can apply to BEL for assistance.
"2. Customers who are unable to pay their bills on time, can make a payment arrangement. "
Amandala also reached out to BEL to find out the approximate number of residents estimated to be conducting illegal power connectivity, but to press time, they have not responded.