BELMOPAN, Cayo District, Wed. Nov. 1, 2017–The Opposition People's United Party (PUP) has long accused the ruling United Democratic Party (UDP) government of stealing the 2012 National and sub-national elections.
That is because between October 2011 and February 2012, over 2,000 foreign nationals were gifted Belizean nationality certificates even though they did not meet the requisite qualifications.
With those certificates, they thereafter registered and voted in the March 7, 2012 elections, which the PUP lost by a combined estimated 800 votes.
Former Director of the Immigration and Nationality Department, Ruth Meighan, in her appearance before the Senate Select Committee, conceded that many illegal immigrants voted in that election.
Today, when the Senate Select Committee asked Immigration and Nationality Minister Senator Godwin Hulse for his views on that allegation, he conceded that he heard about it, but claimed the same did not happen in the subsequent 2015 elections.
Here is a portion of that exchange:
Senator Mark Lizarraga: "Minister, there was quite a bit of activity leading up to the [2012] election. And we have heard testimony that quite a number of persons and we've seen certain reports in the press of activities taking place even in the night. Your comments on that?"
Minister Senator Godwin Hulse: "I heard the same things. I can assure you, of course, coming up to the last elections, there were no such activities."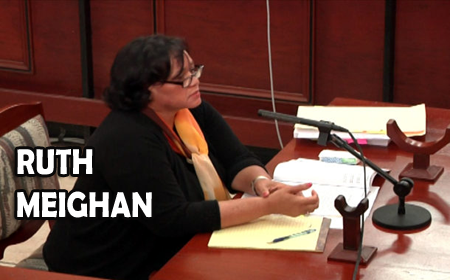 Senator Eamon Courtenay: "In the run-up to the 2012 elections, the evidence that we have is that about 2,000 people were given nationality, most, if not all, who did not qualify. Assuming that that is so, you would agree that an audit should be done with respect to those persons, that activity in the run-up to the 2012 election?"
Hulse: "Senator, I would agree that in the case of any irregularity as you have outlined that, if they can be identified, if the area can be isolated and there were persons who because of what you suggested, got nationality improperly, then certainly."
Lizarraga: "You say if they can be identified, but we have heard from yourself, from the CEO, from the Director, that you've tried to stop leakages and you've improved systems, and we're glad to hear that. But we have not heard and what we have not seen is who is seeking to identify these irregularities, these wrongdoings. We've heard from the police, for example, that they are waiting for the findings of this committee and certainly it is my opinion at least that the police does not have to wait for the findings of the committee to commence investigations into these matters. You agree?"
Hulse: "Yes, agreed."
Lizarraga: "We've heard from one of the previous Directors that they were not focused on what was happening, they were focused on fixing things. Was somebody focused on who was doing wrong?"
Hulse: "I categorically state that after we discovered this atrocity in which I was convinced that people in the department had a hand…we put people from the Ministry in there to look at some of these files which are recorded there. I wrote a letter to the Director to say, consult with the Attorney General, a process to nullify some of these and to cancel the certificates and clip the passport…I do agree with you categorically that the Director of Immigration can undertake these."
When the Senate Select Committee suggested that those nationality certificates issued before the 2012 elections should be investigated, Hulse replied that there was no need for an investigation.
Instead, he explained that the Immigration Department simply had to cancel the nationality certificates and passports given during the period in question.
In cases where those foreign nationals were still in Belize, he suggested that they be deported.
Senator Courtenay asked Minister Senator Hulse, "Are you prepared to commit resources, to have a forensic, independent professional forensic auditor from outside look at these files and audit them and report to the National Assembly?"
Hulse replied, "Senator, I cannot, as you know commit resources; the resources are done through Cabinet, through a budget process through the Ministry of Finance. I cannot commit resources."
During his questioning of Minister Senator Godwin Hulse, Senator Eamon Courtenay hinted that at the end of the hearings the committee would recommend a forensic audit of those Immigration documents issued on the heels of the 2012 elections.