BELIZE CITY–The International Monetary Fund (IMF) issued its annual consultation report on Belize today, signaling its disapproval of the Government of Belize's decision to share surplus revenues with public servants to meet their demand for a salary adjustment to compensate for accrued inflation.
The first installment of that salary adjustment came at the end of July 2014, when teachers and public servants received a 6% increase, retroactive to April 2014; and the Government has committed to a three-tier program to implement the wage adjustment.
"Staff encouraged the authorities to undo their recent commitment to allocate half of the annual growth in recurrent revenue to raise public wages," said the IMF report.
The IMF has also advised the Government of Belize to freeze spending on goods and services and to limit the wage bill and wage-related outlays, as well as remove exemptions and zero-ratings from the General Sales Tax (GST), to collect more than 1–2 percent of Gross Domestic Product (GDP) of additional non-oil revenue.
Belizean economist, Dr. Philip Castillo, pointed out at a national development lecture today that poverty is also a major factor in the marginalization of City youth. Castillo noted that 41.3% of Belize's households are considered poor, which means that a family of 5 lives on less than $10 a day or $3,600 a year. He said that poverty among youth is even higher than the national average, at 51%.
According to the IMF, "The authorities plan to review exemptions and zero-ratings under the GST."
In its section detailing key policy advice, the IMF said the Government of Belize could improve its fiscal stance by "allowing spending on goods and services to rise only in line with inflation; containing the expansion in the wage bill; requiring public workers to contribute to their pensions; and by widening the tax base and strengthening revenue administration."
The IMF notes that Belize's implementation of the IMF's recent staff advice has been mixed.
When the preliminary IMF report was issued two weeks ago, calling on Belize to take "strong measures," Prime Minister and Minister of Finance Dean Barrow told Amandala, when we asked him for a response to the IMF assessment, that he knows what the report is that went to the IMF board, but added that Belize will continue to grow, and grow its own way.
The IMF report comes after discussions held in Belize City and Belmopan from April 29 to May 8, 2014 with an IMF team headed by J. Bouhga-Hagbe. The team met with Prime Minister Barrow, Finance Secretary Joseph Waight, Central Bank of Belize Governor Glen Ysaguirre, and other officials and representatives of the private sector, labor unions, and the Opposition People's United Party, said the report.
The report notes that social challenges remain daunting, adding to spending pressures.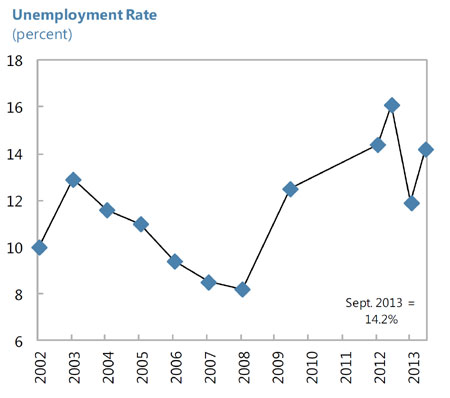 "Unemployment stood at 14.2 percent in September 2013 and is on an upward trend since it hit its lowest level in 2008," it said, citing particularly high unemployment among the young and women.
The IMF said that the latest country poverty assessment (CPA), conducted in 2009, revealed that poverty increased substantially since the previous assessment in 2002.
"The share of households living in poverty increased from 25 percent to 33 percent, with the share living in severe poverty rising from 8 to 10 percent. Poverty increased mainly because of stagnating economic growth," it added.
The report notes that, "Real GDP growth plummeted to 0.7 percent in 2013, from 4 percent in 2012, mainly due to continued declines in oil production and weak agricultural output, especially sugarcane and citrus."
Another challenge highlighted is the country's homicide rate. The IMF cited the 2013 UN Global Study on Homicide, which indicated that Belize has one of the world's highest homicide rates, with 44.7 homicides per 100,000 inhabitants.
The IMF expressed the view that the country's medium-term outlook is worse than had been envisaged.
"Real GDP growth would be weaker than expected in the near term, but hover around 2.5 percent over the medium term, as declining oil production would be partially offset by higher output of other commodity exports, tourism and construction," it said.
Belize's debt trajectory is also an area of concern, particularly due to outstanding commitments to settle with the former owners of the nationalized utility companies: Belize Telemedia Limited (BTL) and Belize Electricity Limited (BEL).
The IMF estimates that settling the Government's obligations for compensation for the nationalization of BTL and BEL, estimated at US$363 million or 20% of Belize's GDP, "would bring the public debt-to-GDP ratio to about 90 percent by FY2019/2…," making debt sustainability a greater concern.
"[IMF] Staff assumes that the liability would amount to the mid-point between the government's valuation of the companies at end-2012 (US$85 million) and the former owners' valuation (US$450 million), and adds capitalized accrued interest up to 2016, using an interest rate of about 8 percent," it explained.
It projects that payments would begin to be made in 2017, in 5 installments.
"Total public debt was 76.4 percent of GDP (US$1,235 million) at end of 2013, of which 85 percent is external debt and 15 percent domestic debt," the IMF documents.