It's time to bring in the country's Chief Engineer to find a solution to Apollo Street, said Works Councilor, Albert Vaughan.
BELIZE CITY, Wed. Feb. 5, 2020– In August 2014, there was a contract signing at the Ministry of Works conference room, in Belmopan. Government signed contracts that were valued at 5 million dollars under the Flood Mitigation Program that was funded by a US$10 million loan from the Inter-American Development Bank (IDB).
At that Ministry of Works contract signing, M&R Construction signed a contract for $1.8 million. The contract was for the upgrading of Apollo Street, a main thoroughfare in the Belama area. That upgrading work was reportedly supposed to have been done in 9 months, by May 2015.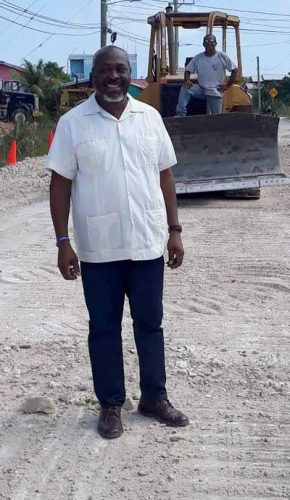 Councilor Albert Vaughan, Works portfolio at City Hall, working on Apolo Street
Today, almost 5 years after that 1.1 million dollars was spent to upgrade Apollo Street, for the third time in the life of the Opposition People's United Party (PUP) controlled Belize City Council, money is being spent to fix Apollo Street. It appears that there was a spectacular engineering failure on the part of the Ministry of Works, which has resulted in Apollo Street continuing to sink and undergo flooding, despite a series of upgrades.
Councilor Albert Vaughan, who holds the Works portfolio at City Hall, told Amandala, "From the time they did this street, this street keep sinking and sinking. It was a failed project."
Councilor Vaughan said, "When we took over the City Council in 2018, we had to come back here and immediately address this street."
"We had spoken to the Chief Executive Officer in the Ministry of Works and had said that this street is a disaster, and they had promised to come and help us. But that help has not come. We can't wait on the Ministry of Works to come, because people are suffering back here," stated Vaughn.
"So we did the first work, but as soon as the rains come, it destroyed that work, and so we had to come again. This is practically the third time we have had to come here," Councilor Vaughan added.
"This is the first time we have been here for this year, but this street keeps taking the resources from the council", Councilor Vaughan said, "and we don't have the resources to fix this street."
We asked Councilor Vaughan how much money the City Council has spent on Apollo Street so far.
"The first time we spent something like $18,000; the second time we spent $26,000; and this time we are spending something like forty-odd thousand," Councilor Vaughan replied.
He explained that Apollo Street becomes flooded not only after heavy rains, but also when there is a high tide. "You know what water does, so that is the dilemma we have fallen into with this street," Vaughan said.
"I had suggested to Mayor Wagner that we meet with Chief Engineer Bradley, so that we can find a solution to Apollo Street. You know that street was paved and that didn't even last, because the water kept coming up and destroyed the whole street. That is where we are today. There are hundreds of people who live in the area and use this street on a daily basis; this is their only thoroughfare in and out of their homes, Councilor Vaughan explained.
Feature photo: Huge potholes on Apollo Street after government spent 1.1 million dollars from IDB loan