Defending champs Bulldogs' losing streak now stands at 2, following 62-42 loss to Tuff e Nuff
BELIZE CITY, Wed. July 26, 2017–Interoffice back-to-back champs, Belize Bank Bulldogs are clearly in unfamiliar territory, following a 62-42 beat-down at the hands of Tuff e Nuff last Friday night in Interoffice basketball being played at the St. Martin's/Swift Hall gymnasium. Apart from losing back-to-back games, the more troublesome statistic for the brain-trust of the Bulldogs obviously must be – the way they have lost – losing by an average of 26 points per game.
After enjoying an early 18-6 first quarter lead, the Bulldogs, oddly, were outscored 56 to 24 the rest of the way. Tyrone "Joka" Edwards led Tuff e Nuff with 17 points, to go along with 6 rebounds, on 7-of-15 shooting from the field. He was followed by Justin Wade 12 pts 3 rebs 1 assist. Raul Roches also contributed 8 pts 8 rebs 2 assts in the win, and Ismael Perez chipped in with 9 pts. As a team, Tuff e Nuff shot 33% from the field on 22-of-67 shots.
They had excellent contribution from their bench squad, who accounted for 17 of the team's 62 points, and they were better on the boards (54-41).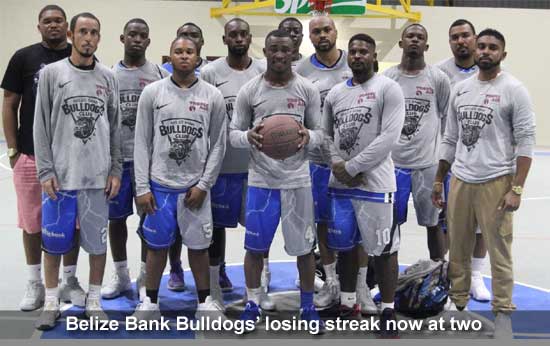 The Bulldogs, on the other hand, shot a woeful 23% from the field, making just 16 of 71 attempts. This, when coupled with poor bench support (1 point) and 18 turnovers, clearly spelled a team in the middle of a rut. Roderick Williams took 24 shots, and made only 6 of his attempts, unambiguously demonstrating a high rate of inefficiency. This bears true for both Lincy Lopez (1-of-11 attempts) and Roscoe Rhys (4-of-17). As a matter of fact, the only player who exhibited any level of efficiency was Brian White, who totaled 9 points on 4-of-6 shooting. It's obviously back-to-the-drawing-board time for the defending champs.
In the nightcap game, it was Infotel over Central Health by the final score of 82-71. The former had three players scoring in double figures, led by Earl "Bolo" Johnson 23 points 9 rebounds 2 assists, Elvis Olivera 19 pts 5 rebs, and Travis Lennan 13 pts 7 rebs. As a team, they shot a remarkable 45% from the field, hitting on 28-of-62 shots.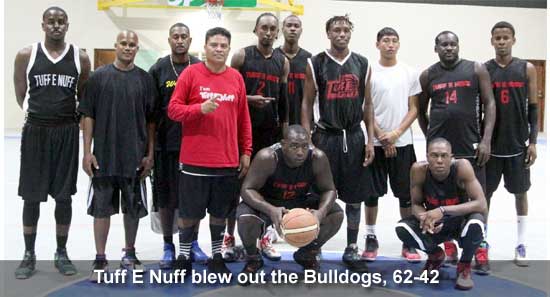 Meanwhile, their opponents, Central Health hit just 26-of-71 attempts for a 37% clip, and, while they played competitively for three quarters, were outscored 33-to-20 in the fourth quarter, which eventually decided the outcome. They were led by Ryan Samuels 23 pts 2 rebs, and Lonnie Trapp 11 pts.
Mayan Warriors clobbered Grace Kings by the final score of 140-33 on Saturday night, behind Ryheem Thurton's game high 39 pts 7 rebs, and Winston Pratt 26 pts 12 rebs. Grace Kings' top scorers were Jhan Graham with 13 pts 5 rebs, followed by Wayne Garbutt and Ashton Young with 6 pts each.