BELIZE CITY–Latest information released by the Statistical Institute of Belize (SIB) indicates that inflation for the first nine months of the year, January to September 2014, reached 1.3%, with inflation for September amounting to 0.7%, when compared to the same time last year.
Whereas there was a small price fall reported for food items, especially items in the bread and cereal category, which saw a price fall of 1.2%, vegetable prices, which the SIB says had been continually rising since last  year, decreased by a notable 2.1%.
Meanwhile, home rental prices continue to edge upwards with prices being 2% higher than last September in every city and town, except for Corozal Town.
"Insurance premiums were also higher in comparison to last September, with health and motor vehicle insurance up by 3.3 percent and 6.1 percent, respectively," the SIB further detailed.
September prices were especially higher in the western twin towns of San Ignacio and Santa Elena, while they were lowest in Corozal, which showed a negligible increase of 0.2% when compared to last September.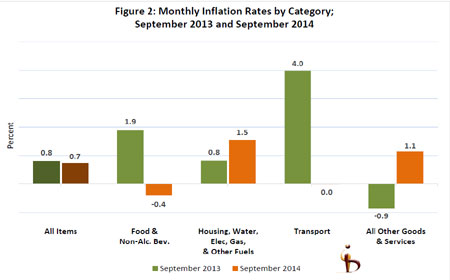 The SIB also reported on external trade statistics, which revealed that the country's import bill grew by $14.3 million or 9.6% this September when compared to last September, with imports for the month totaling $163.6 million—primarily from the United States, Central America, China and Curaçao, via which Belize receives fuel imports from Venezuela.
The total import bill for January to September 2014 is $1.5 billion, up 6.9 percent or $93.9 million when compared to the first nine months of 2013, primarily due to higher levels of diesel imports.
Meanwhile, Belize's domestic exports for the month of September fell by 32%, from $39.3 million to $26.9 million, and exports for the year to date fell by 8.8% or $47.4 million, from $538.4 million to $491 million for the first nine months of the year.
SIB said that on the import side of the equation, "'Mineral Fuels and Lubricants' accounted for almost a half of the increase in the value of imported goods during the month, growing by more than $6 million to $25 million, mostly as a result of increased diesel imports."
On the export side, the SIB reported that, "Crude petroleum experienced the biggest decline, falling by more than $37 million from $114.4 million to $77.1 million. Citrus concentrate and papaya sales fell by $9.4 million and $6.9 million, respectively, while sugar exports were at about the same level as in the first nine months of last year. Marine products recorded the largest growth during this period, rising by $8.3 million from $68.6 million to $76.9 million."