BELIZE CITY, Tues. Nov. 26, 2019– At yesterday's police press briefing, police told the media that there were four persons detained in connection with the murder of Chinese businessman Zheng Cheng Liu, 28, but today, they charged only one man for the murder, and it is not known if other persons will face charges for Saturday night's cold-blooded murder.
Joseph Vaccaro, 24, a construction worker of Neal Pen Road, was escorted into the courtroom of Chief Magistrate Sharon Fraser to be arraigned on the murder charge.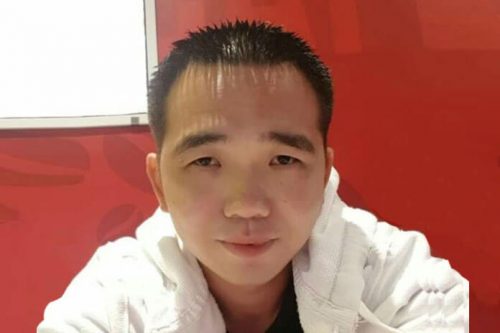 Zheng Cheng Liu, deceased
Sometime before closing time on Saturday, November 23, Zheng Cheng Liu was at one of the 88 Stores on Central American Boulevard when he got a call on his cellular phone.
Someone had called the part-owner of the chain of "88" stores, to tell him that a vehicle he had imported into the country had suffered mechanical failure and needed to be towed from the George Price Highway.
When the businessman got to the scene of where the caller was with the vehicle that needed to be towed, there were other persons there. At this point, things took a tragic turn, as someone opened fire on Zhen Cheng Liu, who was inside his vehicle. His body was then dumped on the side of the road and his vehicle was used to escape from the scene.
Shortly after the shooting, police found the businessman's vehicle in the Gungulung area of the city and detained four men as part of their investigation of the homicide.
The man police charged for the murder, however, asserted his innocence to court reporters as he was being escorted to the court's holding cell to begin his time on remand for the murder.
"Í did not kill that Chineyman," Vaccaro said, emphasizing his innocence, "They are chancing me, but at the end of the day I will leave it to the courts."
Vaccaro's mother is also a believer in the innocence of her son and is demanding that police do their work properly.
Brendalee Vaccaro told reporters, "I want put on the record that my son didn't kill any Chinese man … the one that called him … to go help tow a vehicle … should be here. They are cousins; he was in his bed. They live as neighbors. So why did the police officer and the CIB not pick up the next person and do the right job that they are supposed to do?"
"They beat him and they pepper-sprayed him, they slapped him up…" said Brendalee Vaccaro.
When she was challenged with the question that her son was in the driver's seat of the victim's vehicle, this is how Vaccaro responded: "He said he wasn't in the driver's seat … he didn't even know the Chinese man …"
Vaccaro's next court date is January 24, 2020.
Featured photo: Joseph Vaccaro