BELIZE CITY, Mon. Feb. 10, 2020– Lockhart Bevans, 51, a Belize City laborer, was beaten severely in his back, arms, head and body.
Information to us is that Bevans was gambling with about 7 men, and he won most of their money. The men then became angry and attacked Bevans, beating him severely —punching, kicking and stomping him. They then took the money he had won away.
Bevans' attackers took him to the Karl Heusner Memorial Hospital, where they abandoned him.
At first, Bevans was treated as a John Doe, but his mother, who was looking for him, was contacted and she identified him.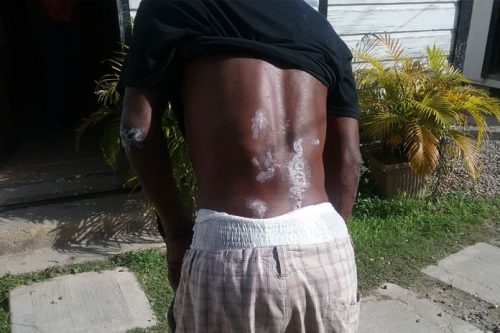 Lockhart Bevans displaying back injuries
His mother said that since the beating and his release from the hospital, her son has not been the same. He is in constant pain and is unable to walk and requires further medical treatment. However, she is not employed, and is unable to pay for the further medical treatment that he badly needs.
We were told that his lower jaw was also broken.
Feature photo: Lockhart Bevans