Burke and others dined at Biltmore Bistro restaurant, where they spent over $1,000 on food and expensive wines.
BELIZE CITY, Mon. Apr. 9, 2018– No one can get into the head of the former two-term United Democratic Party (UDP) Belize City Mayor, Darrell Bradley, to understand why he signed a new contract with the City Administrator, Candice Miller Burke, for four years, even though her present employment contract won't expire until November 30, 2018.
The four-year period covered by the new contract extends one year beyond the life of the incoming City Council, which has been elected to serve a three-year term.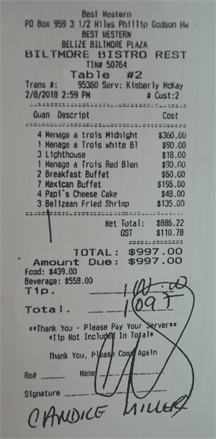 Anyone who has stayed informed about the affairs of the Belize City Council would readily appreciate that the Council's finances are not in the best of shape, that at times there is a struggle to pay sanitation workers and other City Council employees. That, however, was perhaps not at the forefront of the outgoing mayor's mind when he gave a hefty salary hike to Burke.
Under the old contract, Burke was earning $79,000 a year, with an allowance fixed at $3,600. Under the new four-year contract, Burke's salary is set at $90,808 per year, and her allowance was increased nearly 100 percent, from $3,600 to $6,000 per year.
Last Friday, new Belize City Mayor, Bernard Wagner, suspended Burke from City Hall for what he described as a gross dereliction of her fiduciary duties to the Council.
At the heart of the suspension is Burke's willingness to pay a $6,300 drink and food tab that was racked up by Joseph "Joe" Bradley, Mayor Bradley's father, who held the post of "compliance officer"of the Council and who is a mouthpiece on the ruling UDP radio and TV morning talk show.
Both Burke and Mayor Bradley signed the check to pay the $6,300 tab to a Chinese restaurant across the street from City Hall. The older Bradley, who tendered his resignation from the City Council after the March elections, did not have the authority to incur expenses on behalf of the Council, the newly elected PUP City Council revealed.
Mayor Wagner has indicated that he will not pay Bradley's tab, which he has characterized as "gross abuse."
It was not, however, only Joe Bradley who racked up a large tab that was billed to the City Council. City Administrator Burke also appeared to have been extravagant in her use of the Council's finances.
On February 8, Burke and others dined at Biltmore Bistro restaurant, where they spent over $1,000 on food and expensive wines. The tab for the wines, for six drinks of Menage a Trois, a California wine, amounted to $540, and the food tab was $439. Add a tip for $100 and the picture of a whopping $1,000 plus worth of extravagance at City Hall's expense is complete.