BELIZE CITY, Sat. Aug. 10, 2019– This morning at the Radisson Fort George's Cahal Pech Room, Belize City Councilor, Micah Goodin launched the Micah Goodin Scholarship Fund.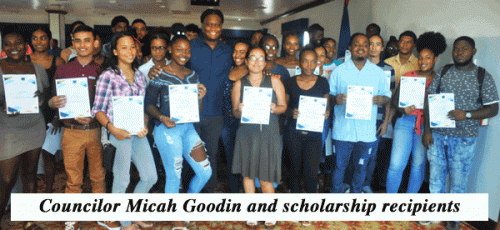 Those attending this morning's ceremony included the former two-term PUP prime minister Said Musa, area representative of the Fort George constituency and former Minister of Education; and Hon. Francis Fonseca, the Freetown constituency area representative, who kicked off the program with his welcome address.
The Belize City Council and Mayor Bernard Wagner, who delivered the keynote address, were also in full support of their young, visionary colleague and his team, which raised the initial monies for the scholarship through weekend barbeque sales.
Councilor Goodin and his team raised $10,000, and that was matched by Mayor Bernard Wagner, bringing the scholarship fund to $20,000, benefiting 43 recipients whose tertiary education expenses will be partially covered.
Fonseca described the launch as "the first fruits, the first crop of the Micah Goodin Scholarship Fund," which, he said, "is a good example of what is possible when all of us come together to work for a common good purpose."
"It's particularly pleasing and inspiring for us to be here this morning for a very positive cause, because we know the reality, there are thousands of young people who want a better life and want a better Belize to live in. We are happy to welcome you here this morning to share in the fruits of the vision of young Councilor Micah Goodin. He raised the funds and he committed to that, he would bring us all together to account for those funds and we are now making sure that the young people of Belize benefit from those funds," Fonseca said.
Mayor Wagner told the gathering: "This morning we are witness to a community that has helped raised the boy Micah Goodin, who has now turned into a man."
Mayor Wagner added, "And Micah, we seriously had our own challenges in the beginning; you are a brash young man, full of energy."
Mayor Wagner recalled being on the campaign trail with Micah and he told him that he, Wagner, has the following of people of the working class and that Micah has the following of the youth, then he stated, "Together we can make a great team."
Recalling how he was approached by Micah with the idea for the scholarship fund, Mayor Wagner said, "How could I not support him with this idea?  Benjamin Franklin once said, 'An investment in knowledge pays the best interest,' if my memory serves me correctly. I think the Hon. Cordel Hyde described Micah as 'a fiery youth who blew into our consciousness at Sadie Vernon".
"The experience of his life's story inspired his determination that he would help those in the same predicament he had to fight his entire life," Mayor Wagner further said.
Mayor Wagner said that today exemplifies the philosophy that guides the Belize City Council — that of putting people first, of building up our social infrastructure. "And Councilor Micah Goodin, with the assistance of his colleagues and his community, is doing exactly that," Wagner said.
"We believe in our youth; it is their ideas and your ideas that will move our city forward. Today is about our people. Our great party must change the footprint of education in our country; our party must also be determined that not a single student must be left behind, shut out because of poverty or any adverse condition," said the Mayor.
Mayor Wagner said that he could not help but offer moral support to Micah, when he first approached him with his project, and he observed the determination that was driving Micah, so he offered to match the funds that were raised.
"Today is another step in the building of this great Belizean society, about keeping hope alive. Today is a day to celebrate positivity in a constant tide of negativity," Mayor Wagner stressed. "Today is not only about assisting 43 students by the Micah Goodin Scholarship Fund, but rather a demonstration of our belief in the future of Belize. We light this torch and you, my young friends, will carry it forward," he said.
Alberto Vellos, a youth leader from Corozal, spoke about how Micah told him about his project, "Grill for Grads."
Vellos said that Micah, after losing his scholarship, did not give up, and has accomplished more. He urged the recipients to follow Micah's example and never give up their struggle for an education.
The closing address was delivered by Anthony Mahler, Deputy PUP Leader and standard bearer for the Pickstock constituency.
Mahler explained how he met the young Micah Goodin and how he assisted him in his education, and Goodin had promised that he would succeed in school. "Micah is a man of his word," Mahler said.
Mahler said that we need to invest more in our young people. "Sixty-five percent of our population is young people below the age of 30, and only 4 percent make it to tertiary-level institutions," said Mahler.  He observed that as he scanned the room, only about ten percent of the recipients were men. "Men, we have to do better," he said.