SAN IGNACIO TOWN, Cayo District, Sun. Mar. 1, 2020– This coming weekend will be the mid-way point of this year's NEBL season. At the halfway mark fans will be able to better decipher the quality of the teams, as everyone will be fixing their eyes on one of the four playoff spots. The deadline for teams to add players to their roster will be Tuesday, March 3, after which final rosters cannot be changed. Team stats, player stats, upcoming schedule and standings can be found on our webpage at neblbelize.com
Tiger Sharks extends Bandits woes to 5 games
Belmopan Bandits hosted the defending champs, San Pedro Tiger Sharks on Friday night at the Hilltop basketball court in Belmopan. Tiger Sharks was without the services of big man Martevuius Adams who was nursing a sore ankle, while Bandits tried to capitalize on this opportunity at home. Belmopan Bandits jumped out to an early 15–2 lead, but San Pedro was able to cut the deficit to 2 points, 45–43, going into the half. In the third quarter San Pedro grabbed the lead, which they maintained to the final whistle, winning 86–69. Tiger Sharks was led by Antone Robinson, Jr., who had the game high with 23 pts to go with 11 boards, while Jihad Wright sank 19 pts and grabbed 13 boards, and Francis Arana finished with 14 pts, 7 dimes and 4 caroms. In a losing effort, Khalil Jabbie was the high man for the Bandits with 17 pts, 5 rebs and 4 assists, while Brandon Flowers scored 14 pts to go with 6 rebs, and Richard Smith II registered another double-double with 12 pts and 16 rebs. With the win, San Pedro Tiger Sharks remain 1 game behind the Defenders for the #1 seed in the standings.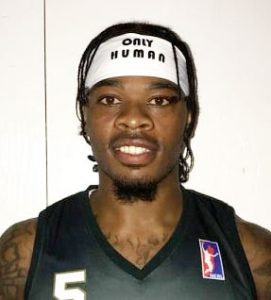 Tyrone Hall of Verdes
Verdes exploits the short-handed PG Panthers
Verdes hosted Punta Gorda Panthers on Saturday night at the Sacred Heart College auditorium in San Ignacio Town, as the visiting squad entered the game without their point guard, D'Von Campbell, who had been released. The first quarter started slowly for both teams on the offensive end, but the home squad picked up the tempo in the second to grab a 38–22 lead going into intermission. Verdes never relinquished that comfortable lead, as they registered an 85–48 win at home. Verdes was led by Tyrone Hall, who had the game high with 25 pts, which included 6 shots from behind the arc, while Devin Thomas had his best offensive output in the season with 17 pts and 8 rebs. Kris Frazier finished with 8 pts and 8 rebs. Punta Gorda Panthers' only double-digit scorer was Jevonte Hughes, who tallied 15 pts, 14 rebs and 3 assists, while Elsworth Itza finished with the game high 16 rebs to go with 8 pts, and Julien Travis chipped in 8 pts. With the loss, Punta Gorda Panthers is on a 4-game losing streak.
Delvon Henderson of Griga Dream Ballers
Dream Ballers stuns Hurricanes in Griga
On Saturday night, Griga Dream Ballers hosted Benny's Belize Hurricanes at the Russell Chiste Garcia Auditorium in the culture capital. The stadium lit up with new-found energy and enthusiasm, as Griga had just recently signed guard sensation D'Von Campbell, who started out the season with Punta Gorda Panthers. Dangriga had an early 27–21 lead at the end of the first quarter, which they extended to 11 points at the end of the third quarter. The home team was able to sustain the lead, registering the 80–67 victory, while snapping their 4-game losing streak. Griga Dream Ballers was led by Delvon Henderson, who had his best game of this season with the game high 22 pts to go with 5 rebs and 5 steals, while Edgar Mitchell tallied 14 pts and 8 assists. Branden Sheppard tallied a double-double with 14 pts and 11 rebs, while newcomer D'Von Campbell finished with 7 pts and 9 assists, and Macario Augustine had the season high with 20 rebs. Ashton Edwards was the top scorer for Benny's Belize Hurricanes with 16 pts, including 4 shots from behind the arc, while Glency Lopez finished with 13 pts and 6 rebs. Eyan Rene and Shuler Dominic chipped in 12 and 10 pts, respectively.
Defenders extends winning streak to 6 games
Between these lines:
by Glenn Tillett, Fri. Feb. 28
For the Orange Walk Running Rebels' Isaiah Thomas, passing is no passing fancy, and no doubt he wishes his teammates were a bit more aware. US sportswriters claim that LeBron James' teammates are warned that if they aren't alert, they may get hit in the face or head with his passes, and I'd bet Thomas understands that.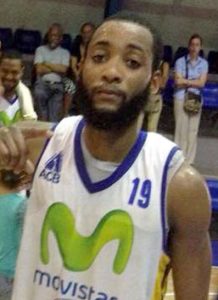 Isaiah Thomas of Orange Walk Running Rebels
His no-look passes are so deceptively good that even his targeted teammates are sometimes startled by them, and so they tend to fumble them, and even at times lose them.
Turnovers, poor free-throw shooting, a lack of composure and coordination at key points, and quickly putting their opponents into the bonus due to fouls in the first quarter all but killed their chances of defeating a wounded but very game league-leading Belize City Digi Defenders here tonight at the Civic by the Riva.
The Defenders were without their ball-hawking defensive standout Ty Bradley, who was serving the first game of a 6-game suspension levied for throwing a punch at San Pedro Tiger Sharks' Martevuius Adams in last Friday night's game, as well as fellow guard Shaquille Crawford, who was injured following a hard fall in the same encounter.
The Rebels scored the first points of the game, and led 5-2 after a few minutes of play. They then proceeded to turn the ball over 9 times, commit 7 fouls and miss 6 of 7 free throws, to fall behind 31-22 by the end of the quarter, and in a hole they could never quite climb out of for the rest of the game.
At the end, they would fall 101-84, having turned the ball over 24 times, shot less than 50% from the stripe, and despite a valiant run that narrowed the deficit to just 3 points with about a minute left in the third quarter.
Defenders coach Matthew Smiling almost immediately went to his not-so-secret fearsome four-forward lineup (Devin Daly, Nigel Jones, Luther Page and Farron Louriano) piloted by a somewhat gimpy Mykeil Tzul in the fourth quarter, and the dwindled lead soon ballooned to 15 points with 5 minutes to play.
The Rebels were game, but with less than 3 minutes still to play, they knew they had fought too hard and come too far; there wasn't much left to give.
Along with Isaiah Thomas, Tyrie Orosco and mainstay workhorse Brian White, Orange Walk's dapper Troy Gabb, Jr., has a keeper in young Andrew Vasquez. He may need more real-time, on-court minutes, but his instincts, shooting and hard nose rebounding was a revelation.
Orange Walk's passionate expert fans rode the roller coaster of their team's performance with loud cheers, plenty of shouts of advice to Gabb, and remonstrations to the referees, who did a commendable job of ignoring their entreaties and imprecations.
The Rebels will seek to regroup against the PG Panthers next Saturday in the nation's southernmost municipality, while the Defenders will rest on the laurels of a 6-game win streak and a 6-1 record atop the standings.
(Belize City Digi Defenders – Devin Daly 27 pts 3 assts, Nigel Jones 21 pts 9 rebs 3 stls, Luther Page 18 pts 7 rebs, Mykeil Tzul 14 pts 8 assts 3 stls, Farron Louriano 13 pts 5 rebs; Orange Walk Running Rebels – Isaiah Thomas 31 pts 8 rebs 4 assts, Brian White 20 pts 13 rebs, Dajuan Cooper 13 pts 5 rebs)
Upcoming games:
Friday, March 6
9:00 p.m. – Griga Dream Ballers vs Verdes at Russell Chiste Garcia Auditorium
9:15 p.m. – Benny's Belize Hurricanes vs Belmopan Bandits at Belize Civic Center
Saturday, March 7
8:30 p.m. – Punta Gorda Panthers vs Orange Walk Running Rebels at the Punta Gorda Sports Complex