BELIZE CITY, Thurs. Sept. 17, 2020– Nestor "Net" Vasquez, the longest-serving chairman of any Belizean institution's board of directors, in this case, Belize Telemedia Limited (BTL), resigned from his post as chairman this Tuesday, September 15, 2020, and his resignation was formally accepted the following day.
His resignation followed a flurry of media reports that he had abused BTL's corporate credit card, allegedly to the amount of $400,000 over at least the past 5 years.
Vasquez did not publicly refute the allegations or attempt to explain purchases in Miami, Florida, and in neighbouring Chetumal, Mexico, saying only in a brief statement that he was resigning after serving as "the company's Chairman for twenty of the thirty-two years since the company was established."
He concluded by stating that he "will gladly participate in any investigation if requested."
Allegations also are that Vasquez may have obtained one of the company's vehicles, which he passed on to a "special acquaintance". He was accused in 1989 of obtaining several of the company's properties at an undervalued price, namely, some houses and lots, during its first privatization.
The history of telecommunications in Belize dates back to 1902, when a manual line linked Belize City with Consejo Village in the Corozal District in the northern region of the country.
In 1956, Cable & Wireless, Plc, a British firm, introduced the first telephone system in Belize with international radiotelephone links.
By 1963, Cable and Wireless had installed a dial-up office in Belize City with access to international service using high-frequency radio circuits.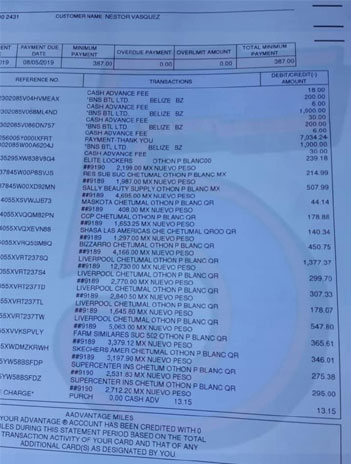 In 1972, Belize's government established Belize Telecommunications Authority (BTA), one of the nation's first statutory boards, and in 1987, BTA acquired the assets of C&W in Belize and formed Belize Telecommunications Limited (BTL).
On December 30, the government vested the assets of BTA to BTL, with Net Vasquez being appointed as the executive chairman of the company.
Carlisle Holdings, a company majority-owned by Lord Michael Ashcroft, succeeded in buying 52% of BTL's shareholding in 2001, but by 2003, their majority shareholding was bought by the Government of Belize, re-sold to Jeffrey Prosser's International Communications Corporation, and then sold back to another of Ashcroft's investment vehicles.
It became Belize Telemedia Limited in May 2007, but Ashcroft's majority shareholding was expropriated by the Government of Belize in August 2009. Since August 2018, the company has been marketed as "Digi".
Net Vasquez was thrice appointed to chair BTL's board, twice by the Esquivel administration in 1984 and 1993, and again by the Barrow administration in 2009. He remained in the position after Sir Manuel Esquivel abruptly retired from all public positions in 2014, and demitted office as Chairman of the Executive Committee of BTL, but remained as Chairman of the Board and member of the Executive Committee.
Prime Minister Dean Barrow's son, Anwar Barrow, then a board director, replaced him as Chair of the Executive Committee.
There is no indication yet if he will resign, or be replaced on, or removed from the Integrity Commission, or whether there will be a revocation of his chairmanship of the Social Security Board of Belize Investment Committee, his position on the Board of Directors of the Central Bank of Belize (where he is the Deputy Chairman), or his membership in ICAB.
The Leader of the Opposition called for his removal from those posts in Wednesday's meeting of the House of Representatives.
The scuttlebutt among some of BTL's 700 staff members is that Vasquez's use and abuse of the corporate card was flagged by the company's Financial Operating Officer (FOO), Mohan Mahase, who took up the position after ex-CEO Rochus Schreiber suddenly departed late last year, and the then FOO, Ivan Tesucum, was appointed to that position.
John Burns is listed as the company's internal auditor, and he reportedly reports to the chairman of the Board, as is protocol.
Schreiber replaced Anwar Barrow in November 2018, and both Tesucum's and Mohase's appointment remain designated as "Acting".
PM Barrow was insistent when questioned by the media that there will be an investigation into the allegations of credit card abuse, as well as into the allegations that Net's media concern, Channel 7, not only got a lucrative advertising contract, but was prepaid a hefty advance. Barrow also indicated that the investigation will not be headed by his CEO, Audrey Wallace.
He told the media, "Net Vasquez was a lion in winter. The fact that he was of an advanced age did not diminish, certainly, my appreciation of his many talents, and I don't think in any way it interfered with his ability to discharge his duties as chair of the BTL board. He's an unusual man in so very many ways."
There were reports circulating yesterday that Allan Slusher, a former advisor to Mr. Barrow who reportedly had a "falling out" with him, will replace Vasquez.
Slusher is a former president of the University of Belize who resigned after a spat with the administration in 2017. He is a former Governor of the Central Bank of Belize, and has sat on the board of both BTL and BTL, and held positions at both the World Bank and the Caribbean Development Bank.
Along with Net Vasquez, who was the BTL board's chairman, the current members of the Board are Anwar Barrow, Col. George Lovell (Rtd.), Ms. Audrey Wallace, Mr. Rafael Marin, Mr. John Mencias, Ms. Lorelei Westby and Mr. Eric Eusey.
Magalie Perdomo is the Board Secretary and the accounting firm of Pannell Kerr Foster has been BTL's external auditor for the past several years.
Barrow expressed his opinion that if necessary, Vasquez would reimburse the company, but that he thought no investigation would be completed before the upcoming general elections, which, he insisted, would take place by the end of the first two weeks of November, at the latest.