In March of 2011, the "black" president of the United State Barack Obama, his VP Joe Biden and his warmonger Secretary of state Hillary Clinton green-lighted one of the most genocidal military attacks in modern history upon the independent and sovereign African nation of Libya. Not only was this a premeditated attack on Libya, but indeed an armada of the entire Western military alliance of NATO led the terror of a violent invasion. It was an arrogant and paternalistic show of white supremacy on a global scale.
Not only were they attacking an African nation, but one of the most successfully developed and economically stable nations in the world. But Libya was no ordinary North African country. They were virtually self-sufficient in food production and had zero poverty, with modern infrastructure and the engineering wonder of extracting water from the depths of the Sahara to irrigate tens of thousands of farmland. World-class hospitals and universities were accessible to all citizens at zero cost. They established universal basic income and scholarship for students to study abroad in various specific specialized fields relevant to the national developmental trajectory. Libya was estimated to possess over 150 tons of gold reserve which, by population size, placed the country in the top 25 nations in the world with the highest gold reserve. But unlike Venezuela, for example, who is currently engaged in a legal battle with the Bank of England who are refusing to return the country's gold reserve, Libya's gold was kept at home. Hence, in order for the western nations to get their hands on the gold reserve, they had to do 4 things, usurp local opposition groups, manufacture a predicate, invade and implement regime change. It's worth noting that after the invasion of Libya, its massive gold reserve has mysteriously vanished.
Its leader Muammar Gaddafi was both revered and hated by his enemies. Under his leadership, Libya had a generous foreign policy financial aid support to small and developing countries around the globe. From tiny Caribbean island states to countries in the black diaspora benefitted from the program. Gaddafi who agreed to give up his nuclear program in early 2000, became an advocate for the idea of a Union of African States echoing legendary African leaders Kwame Nkrumah, Amilcar Cabral, and Siko Ture. This idea was undergirded by the understanding that the African continent needs to establish its own world bank and lending institution. In addition, the creation of its own hard currency backed by the gold standard.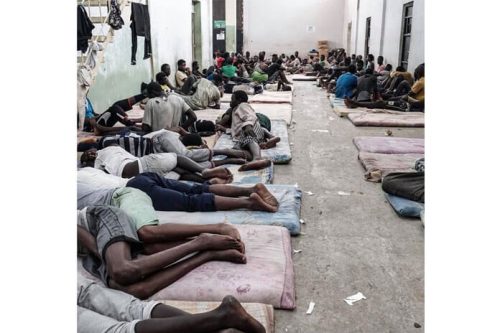 The global white supremacy citadels decided that this represented a direct existential threat to their hegemony and launched a combined air attack that included all of the North Atlantic Treaty Alliance militaries. For months on end the world witnessed the vulgar, horrific and wicked mass murder carried out by so-called civilized nations. The Libyan leader Muammar Gaddafi was captured and murdered in cold blood. In the end, a modern African nation was literally bombed back into the stone age, and hundreds of thousands of men, women, and children murdered. The residual effect unleashed a catastrophic wave of African refugees and Arab racism that is so despicable that the western media largely kept coverage at the very minimum.
African immigrants who once sought refuge in Libya for work and livelihood found themselves being herded and sold as slaves. This horror continues to this day. It's important to note that under Gaddafi's leadership any form of slavery was punishable by death. Let us never forget the destruction of Libya.