BELIZE CITY, Mon. Jan. 27, 2020– The Dickie Hernandez Old Road Football Classic continued yesterday, Sunday, with two Week 6 games at the Lucky Strike Football Field.
In game 1 at 1:00 p.m., Lucky Strike had to battle for a 4-3 win over the Rookies (from the same village). Lucky Strike goals were by Frederick Garbutt (30' & 51'), Febe Esteverne (65') and Keenen Gillett (80'); while Rookies got goals from Travis Herrera (25' & 56') and Augustine Smith, Jr. (74').
Game 2 saw Pasadita with the 3-0 win over Corozalito, courtesy of a goal apiece from Miguel Rivera (27'), Albert Davis (60' PK) and Samuel Torres (83').
Below are the current standings, minus the 2 games with Sandhill/Rockstone Pond, who have apparently dropped out of the tournament.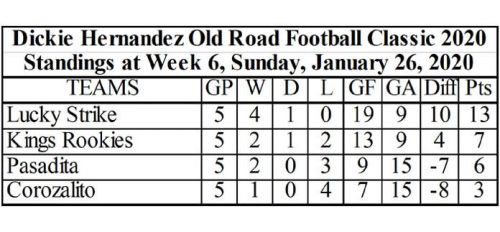 Upcoming Week 7 games at Lucky Strike Field:
Sunday, February 2
1:00 p.m. – Corozalito vs Rookies
3:00 p.m. – Lucky Strike vs Pasadita
Special thanks to Alberto Chacon and Allan Jones for officiating the games free of cost.