BELIZE CITY, Mon. Dec. 21, 2020– Drive-by shooters passed the newly opened St. Martin One Stop Auto Care on Partridge Street Extension on Saturday, December 19, and fired a hail of bullets that killed one man and injured four.
Just last week, news reports were highlighting the opening of the auto care shop, which is part of a community hub that was established in the area with the support of the United States Embassy in an effort to provide former convicts with an opportunity to make an honest living and start a new life.
Sometime around 6:09 p.m. on Saturday, Crime Investigation Branch personnel, after receiving reports that shots had been fired on Partridge Street Extension, went to the Karl Heusner Memorial Hospital (KHMH) trauma room, where they found Terrence Rhaburn, 30, who passed away due to gunshot wounds in the chest; Keith Stuart, 34, with two gunshot injuries in the right leg; Jermaine Garnett, 38, with a gunshot injury in the right leg; and Albert Clother, 33, and Jamaal Jackson, 33, who were listed as being in a critical condition.
Investigators say that around 6:05 p.m., one of the men, while in the company of four others, was locking up the auto care shop, located on Partridge Street Extension, when a white SUV pulled up and a shooter, or shooters, inside the vehicle, fired about 20 shots at the group of men.
Terrence Rhaburn was fatally injured at the scene.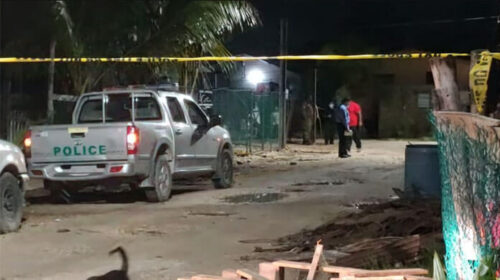 Regarding the motive for the shooting, Superintendent Alejandro Cowo, Head of CIB Belize City, says that they believe that one of the victims had been targeted because of an old gang-related rivalry that dated back some two years ago. Two suspects from the immediate area are being sought for questioning.
"It is unfortunate that this shooting happened there, because we believe that these persons are trying to make a change and likewise, trying to assist others to come in and make a difference in the community and change that lifestyle (gang-lifestyle) they were living.
"It really saddens the community…criminals are criminals and they might say, 'I forgive you', but I suspect that they have not forgotten what has happened in the past, and the minute they have that time to capitalize, they do.  I believe that is what happened on Saturday night," Supt. Cowo said.