BELIZE CITY, Mon. Oct. 19, 2020– On Saturday evening, October 17, the Orange Walk District recorded its 1,000th case of COVID-19, and a new death, this time a female in her 50's from August Pine Ridge.
Recent data as of October 18 shows 12 additional positive cases of the virus. Orange Walk has been our local epicenter since late August, and the number of cases in that district has increased rapidly since then.
The spike in cases is widely attributed to border jumpers living in the northern districts, who have made their living by reselling goods procured from our direct neighbors, Mexico and Guatemala.
In his recent press conference, Prime Minister Dean Barrow commented, "If we could somehow persuade our people to stop this business of crossing land borders, and going into, in particular Mexico, by way of these illegal routes, then we'd be far better off than we are today."
It seems that the increased infectivity rate in Orange Walk can also be attributed to a mutated strain of COVID-19 found by researchers at Universidad Autonoma "Benito Juarez," located in Oaxaca, Mexico. The team published their findings in a research article entitled, "Analysis of SARS-CoV-2 mutations in Mexico, Belize and isolated regions of Guatemala and its implications in the diagnosis."
The research's aim was to compare genomic sequences of COVID-19 infections found in Wuhan, China with those identified in Mexico, Belize, and Guatemala. The researchers found 187 distinct variations and concluded that the COVID-19 mutation in those three countries produced greater infectivity.
The article concluded by noting, "The Genomic sequence of SAR-CoV-2 in Mexico, Belize, and Guatemala presents similar mutations related to a virulent strain of greater infectivity, which could mean a greater capacity for inclusion in the host genome and be related to an increase of the virus in these countries. "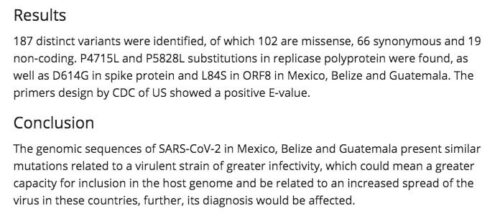 Dr. Marvin Manzanero referred to this research in the joint virtual press conference hosted by the Prime Minister last Friday. He said, "They are not specifying where geographically, but we are assuming it is going to be northern Belize … we think the link is with Orange Walk, so if that is in fact true, then that can explain part of what is happening in the north, that you are having ongoing greater infections, that at times become not detectable, then you see the surge come at given points in time."
Dr. Manzanero added," Globally, you have an RT (rate of transmission) which is usually 1 to 3, but having 1 to 7, in Belize, we have seen 1 to 5 maybe about 2 months ago, so this could start to explain where that is coming from."