Photo: Beyron Tillett, charged with multiple offenses
on hospital bed
by Charles Gladden
COROZAL, Wed. Mar. 15, 2023
Beyron Vladimir Tillett, 35, of San Antonio Village, Orange Walk District, who was the driver of a pickup truck that was involved in a traffic collision on the San Antonio Road outside of Yo Creek Village on Saturday, March 12, that caused the deaths of four family members—Aldair Tillet, 28; his common-law wife, Felisha De La Fuente, 27; his sister, Janian Tillett, 18; and his 4-year-old daughter, Alisha Tillett—is facing a number of charges.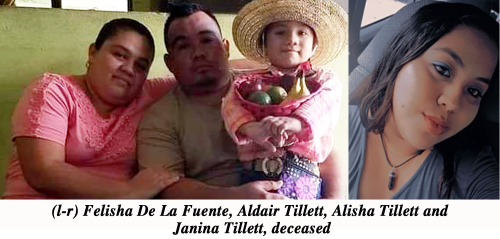 Just after 8:00 p.m. on Saturday, Aldair Tillett was returning from Botes, Guatemala, in his Ford Ranger pickup truck along with his sister, his common-law wife, and his daughter when their vehicle was hit head-on by an F150 pickup truck being driven at the time by Beyron Tillett, who was heading in the opposite direction.
As a result of the collision, both pickup trucks were extensively damaged beyond repair. Aldair Tillett and his family members all died at the scene; meanwhile, Beyron Tillett, who refused police's request that he give a urine specimen, was taken to the Northern Regional Hospital for medical treatment.
Beyron Tillett has since been charged for multiple traffic offenses—four counts of manslaughter by negligence, four counts of causing death by careless conduct, one count of failure to provide a specimen, and one count of driving a motor vehicle without due care and attention.
A postmortem exam conducted on the bodies of Aldair Tillet and Felisha De La Fuente classified their cause of death as "Multiple Blunt Force Traumatic Injuries Due to Road Traffic Accident".
They will all be laid to rest on Friday, March 17, 2023.