Photo: Samuel August
by Charles Gladden
BELIZE CITY, Fri. Jan. 13, 2023
On Friday, January 13, three Belize City men—Samuel August, who was convicted of causing the death of his 5-year-old child and the child's grandmother by ramming a backhoe into the home in which they slept, and two men convicted of murdering hardware store owner Oscar Rosado—were sentenced for their crimes when they appeared in the Supreme Court in Belize City before Justice Susan Lamb.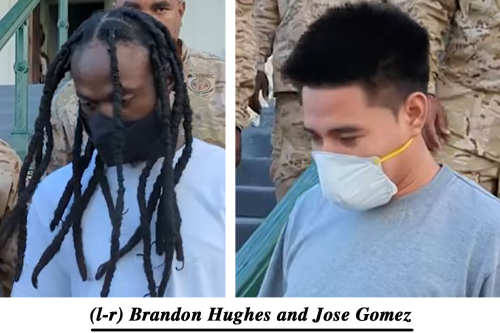 One of the men convicted of Rosado's 2018 murder—Brandon Hughes, was given a life sentence, and will be eligible for parole after serving thirty years in prison, while the other, Jose Gomez, was sentenced to twelve years behind bars, with eligibility for parole after he has served eight years.
The time that Hughes spent on remand, however, will be deducted from his sentence—leaving him with twenty-five years, four months, and twelve days more to spend in prison before he is eligible for parole. Similarly, Gomez's sentence was reduced due to time on remand, leaving him four years and seven months to serve in prison before parole eligibility.
Gomez and Hughes were reportedly two of the three men who had entered Rosado's establishment on Cemetery Road in Belize City under the pretext of purchasing nails, before exiting the store. When they returned shortly after, one of them fired a single shot at Rosado from point-blank range, fatally wounding him in the forehead in the presence of his son, Oscar Rosado, Jr., and other employees working on the compound.
During the sentencing in court, Justice Lamb highlighted the fact that Hughes was the triggerman while Gomez stood there and did nothing to help the victim.
The other man sentenced by Justice Lamb on Friday was 39-year-old Samuel August, a former Belize City Council employee, who was found guilty of killing his five-year-old son, Samir August, and the child's grandmother, fifty-three-year-old Louise Young, by crashing a backhoe into the home in which they slept in 2018. August was sentenced to thirty-five years in prison.
Some previous reports had suggested that what fuelled August's rage was an order by the court that maintenance payments be deducted from his salary and given to his mother-in-law (into whose custody his children had been placed).
Because August pleaded guilty to the crime, his sentence was reduced, so he is to serve twenty-five years in prison. He is not eligible for parole until he has served twenty years of that sentence. He is also serving a seven-year prison sentence for robbing a teacher's car during a brief escape attempt following the incident. He had crashed that car into another backhoe on the highway.