BELIZE CITY, Mon. Oct. 26, 2020– Police are reporting that over 100 persons were arrested and charged over this past weekend for attending restricted events.
Parties, baby showers, and typical get-togethers were reported from the north to the south, and police were actively breaking up the gatherings and arresting individuals in violation of the law.
In the Orange Walk District, our nation's COVID-19 epicenter, a party in Guinea Grass Village resulted in the arrest of 23 persons.
Police were also called to Gravel Lane in Orange Walk Town, where they met 17 persons attending a get-together. They were also arrested and charged.
In Roaring Creek, 40 persons were found in violation of the regulations that have placed restrictions on events during the quarantine, and they were arrested. Also, in Placencia, American and Canadian expatriates were detained with others and charged for socializing at an establishment named Buba Wuba.
As mentioned, all these persons were charged for the offense of attending a restricted event. The regulations to restrict gatherings of greater than 10 persons are in place to slow the spread of the novel coronavirus, and to prevent cluster and community transmissions from taking place.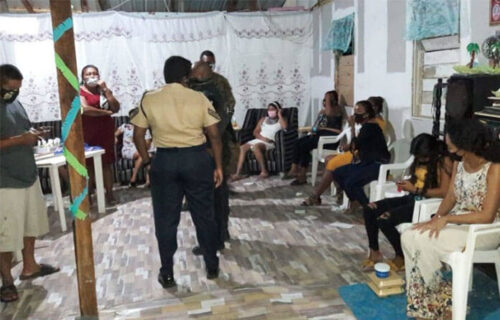 Commissioner of Police Chester Williams took to social media on Sunday, once again calling on Belizeans to comply with the regulations put in place by the Ministry of Health to avoid infection and reduce the spread of the deadly virus.
"It saddens me each time I hear of someone dying from COVID-19 virus. I believe that each of us [has] a responsibility as caring citizens of this country to protect our most vulnerable population.
"But instead, some of us are so selfish and self-centered that we only think about our personal instant gratification, recklessly throwing parties and not adhering to the COVID-19 protocols," Williams commented.