BELIZE CITY, Thurs. Jan. 28, 2016–The MCC Grounds looked like "old times" on Sunday, January 24, where hundreds of fans, including our fine ladies in all their regal splendor, adorned the bleachers, and inspired the young men to give two exciting football performances, with both the 3rd place and championship games going into overtime before a winner was declared for the CYDP Peace Cup 2015-2016. There was maximum security from the Police Department, and it also helped that all the games of the CYDP Peace Cup tournament were FREE.
The third place opener ended 3-3 in regulation between Kelly Street and last year's champ, Tut Bay, with Kelly Street emerging 4-3 winners on a goal by Francis "Franco" Andrews in the second overtime period. Goal scorers for Kelly Street were Stephen "Breds" Baizer, Wilfred Fisher and Francis Andrews (2); while for Tut Bay, Brian Martinez, Kevin "Motto" Alvarez and Delroy Flores got 1 apiece.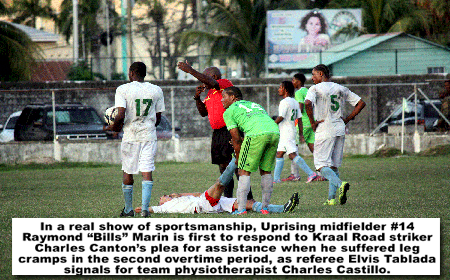 The championship final was between two teams which were undefeated in their respective group in regular season. Uprising Stars had drawn once in Group A, while Kraal Road had a perfect 7-0 record in Group B. After going scoreless in regulation, the only goal came in the first overtime period, after Uprising midfielder Jael Ottley's long blast was saved by a diving Elias Hercules in goal for Kraal Road, but the rebound was collected on the left side by Uprising's Germaine Foster, and his left footed rocket from 12 yards almost tore through the net in the top right corner. It remained 1-nil till the final whistle. Uprising Stars were champs of the CYDP Peace Cup.
In the award ceremony after the championship game, Uprising Stars received their $5,000.00 1st place prize along with the team trophy; 2nd place Kraal Road got $3,000.00 and a trophy; and 3rd place Kelly Street received $2,000.00.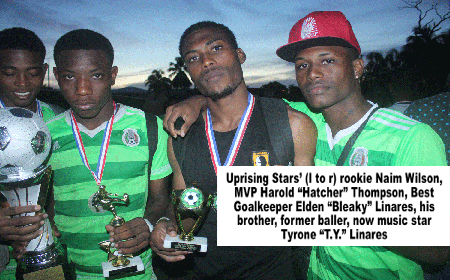 Individual awards were:
Best Goalkeeper – Elden "Bleaky" Linares (Uprising Stars FC)
Best Defender – Jermaine "Bowfoot" Zuniga (Kraal Road FC)
Best Midfielder – Francisco "Pele" Briceno (Uprising Stars FC)
Best Forward – Latrelle Middleton (Kings Park Strikers FC)
Most Goals Scored – Charles Canton (Kraal Road FC)
Most Disciplined Player – Albert Davis (Kings Park Strikers FC)
Most Valuable Player – Harold "Hatcher" Thompson (Uprising Stars FC)
Best Coach – Albert "Allie" Thurton (Tut Bay FC)
Best Manager – Marconi Leal (Kraal Road FC)