Wagiya deals defending champion Bandits their second consecutive loss
BELIZE CITY, Mon. Mar. 4, 2019– At Week 8 of the Premier League of Belize (PLB) 2018-2019 Closing Season, all 8 teams are still in contention for the 4 playoff spots (See standings below.); and parity was never more evident than this past weekend, where former 7th place Wagiya Sporting Club clipped defending champion Bandits Sport, handing the Bandits their second straight defeat, after breezing through the first 6 weeks of competition without a loss; and cellar dwelling BDF FC held former 4th place Assassins Altitude FC to a 2-2 draw. "Any number can play," indeed, in this PLB competition.
At the M.A. Stadium in Independence on Saturday night, last place BDF FC came away with a 2-2 draw against home standing Assassins Altitude FC. Altitude twice took the lead, through Ashley Torres (3') and Andres Orozco (24'); but each time the visiting BDF FC came back, with Camilo Sanchez (5' PK) from the penalty spot, and later through Osmar Duran (47').  Meanwhile, at the Ambergris Stadium, the visiting Verdes FC took the lead through Elroy Smith (24'); but Luis Mencias (34') equalized for San Pedro Pirates FC; and that's how it ended, 1-1.
On Sunday afternoon, down at the Carl Ramos Stadium in Dangriga, after a scoreless first half, Ralph Flores (60') scored the only goal of the game, to give home team Wagiya Sporting Club the 1-nil victory over Belmopan's Bandits Sport, who have suffered back-to-back losses for the first time that we can recall.  Meanwhile, at the Isidoro Beaton Stadium in Belmopan, Jaren Lambey (3') gave visiting Freedom Fighters FC from Punta Gorda an early 1-nil lead, but Police United FC replied with goals from Dale Pelayo, Jr. (19'), Andres "J.R." Makin (42') and Carlton "Fubu" Thomas (69'), to secure the 3-1 home victory.
 The "parity" story is probably most evident from the "Goal Difference'" (Diff) column, which shows that even last place BDF FC has been competitive, 3 of their 4 losses coming by 1 goal margins, and the other a 2-0 loss. BDF has drawn 3 games, and their sole victory, a 1-nil win, came against no less than presently 2nd ranked Verdes FC. Six weeks of games remain, and the top-4 playoff spots are really still "up for grabs."
Wagiya FC comes to town this Sunday, and Belize City fans will be on guard to see if striker Ralph Flores, who burned the Bandits yesterday in Dangriga, is really back to his once impeccable form, which could mean "worries and problems" for the struggling BDF FC.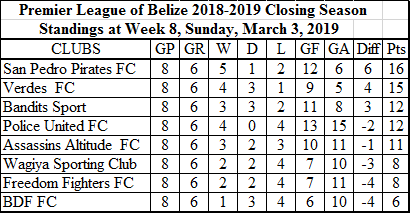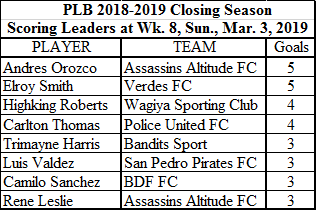 Week 9 schedule:
Saturday, March 9
8:00 p.m. – Bandits Sport vs Assassins Altitude FC – Isidoro Beaton Stadium
Sunday, March 10
4:00 p.m. – Verdes FC vs Police United FC – Norman Broaster Stadium
4:00 p.m. – BDF FC vs Wagiya Sporting Club – MCC Grounds
4:00 p.m. – Freedom Fighters FC vs San Pedro Pirates FC – Victor Sanchez Union Field