BELIZE CITY, Thurs. June 11, 2020– Funeral services for football great, Eian Dwight "Coco" Henry were held yesterday morning at Ebenezer Methodist Church on Barrack Road in Belize City, where relatives and friends were joined by a number of Coco's long time teammates and fans from the Plaza area, where he grew up. The mass celebrant, Bishop A. Moses Benguche likened Kelly Street, which has had troubling times recently, to the biblical Nazareth, when the question was asked, "What good could come out of Nazareth"? Eian "Coco" Henry, along with Norman "Tilliman" Nunez and Charlie Slusher, who both sat in the congregation, were three very close childhood friends and teammates from the Kelly Street area that went on to football greatness in Belize.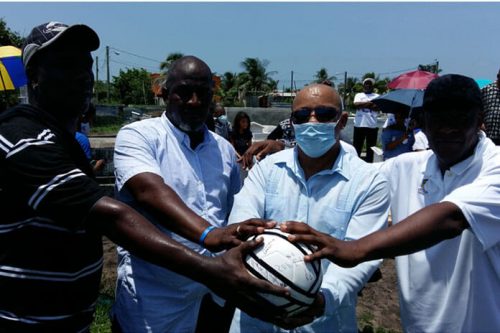 4 goalkeepers defended by "Coco" Henry – (l to r) Stanley "Jordan" Reneau; Charlie Slusher; Norman "Butta" Ferguson, Jr.; and Anthony "Willie Bo" Bernard (Coco also defended Rodney Brown, then goalie of Yabra Guinness, now in the U.S., who was among those that assisted during his illness.)
The eulogy was by Rudolph Conorque, and there were remembrances from Rhondine Greene, Monica Nunez, Nick Pollard, Jr. and 13-year-old Adolfo Angele Oliva, who was Coco's close assistant during his bedridden time. Coco passed at only 48 years, on Friday, June 5, following a long illness, which struck him at around 39 years, while he was anticipating participating in the Over-40 tournament.
In his remembrance, Nick Pollard recalled the 1986 Coca Cola sponsored first FIFA/Belize Under-15 Mundialito held at Yabra Field under coordinator Jerome "Pealoff" Maheia; and it was there he first noticed the outstanding talents of Norman, Charlie and Eian, members of the France team, who would reunite for the 1991 CONCACAF U-23 Olympic trials, and later for a number of national football championships with the Juventus club of Orange Walk. Nick, who once served as BNFA/FFB and Belize Football League (BFL) president, lamented the fact that there is nothing in place to ensure that disabled footballers, like Eian was, are covered by our Social Security system once their football playing days are over; and he promised to put some proposals forward to the FFB/PLB on that score.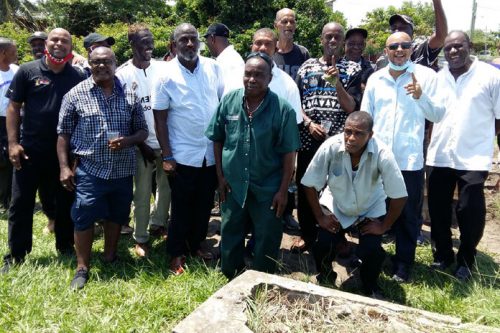 Plaza bids farewell to Coco
Following the internment at the Lord Ridge Cemetery, Coco's friends and past teammates from the Plaza area got the urge to come together for a farewell picture. R.I.P., brother Eian "Coco"
Feature photo: (l to r) Charlie Slusher, Nick Pollard, Jr. and Norman "Tilliman" Nunez