BELIZE CITY–It's coming near to "do or die" for some teams in the PLB playoffs, which begins its second round this Wednesday evening, New Year's Eve, with games simultaneously at People's Stadium in Orange Walk and Norman Broaster Stadium in San Ignacio.
The 4 playoff teams in the Premier League of Belize (PLB) double round-robin playoffs have each already played 3 of their 6 scheduled playoff games. The top 2 teams at the end of the playoffs will clash in the home-and-away championship finals.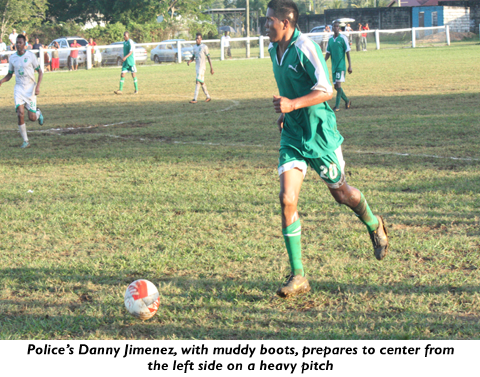 In the opening weekend of playoff action a week ago, it was Police United, 2-1, over Belmopan Bandits at the Isidoro Beaton, and Verdes drawing 1-1 with BDF at the Norman Broaster.
The playoffs continued on Wednesday evening, Christmas Eve, with Police registering the 2-0 win over home standing BDF at the People's Stadium, with goals from Trevor "Burger" Lennon (44') and Harrison "Cafu" Roches (90+'); while Belmopan Bandits played to a 0-0 draw with Verdes FC at the Isidoro Beaton Stadium.
Yesterday marked the end of the first round of playoffs, and goals remained scarce, as both weekend games ended in 1-0 scores. On Saturday night at the Isidoro Beaton Stadium, it was defending champion Belmopan Bandits over BDF, 1-nil, on a header by Elroy "Bibs" Kuylen (46+'). And yesterday afternoon, Sunday, at the same venue, Verdes and Police battled to a scoreless first half that saw a number of close calls, including rebounds off the cross bars, on both ends; but early in second half on a heavy and very slipper pitch, Jarret Davis' drive down the left side drew enough Police attention for him to find a trailing Gilroy "Bredda" Thurton, alone on the right side. Jarret's cross field pass was perfect, and Bredda had time to control and pick his spot low in the far left corner, past a diving Keith Allen in goal for Police. 1-nil, Verdes FC at the 48th minute; and they held on till referee Amir Castillas blew the long whistle.
It was not the prettiest game, largely due to the heavy clay surface that saw players' shoes getting clogged between the pegs with dirt, causing them to slip all over the place. And it also led to a very physical game, that saw referee Castillas issuing a number of yellow cards, and most notably a second yellow, that saw Police sweeper Frank Lopez being ejected about 10 minutes before the end. This means that Lopez will have to sit out the next game, which is against the same Verdes squad on Wednesday in San Ignacio.
With each team having 3 more games to play in these playoffs, games this Wednesday and the coming weekend could be critical in deciding the 2 teams who will make it to the championship round. (See standings above.)
Remaining playoff games:
Wednesday, December 3
4:00 p.m. – Belize Defence Force FC vs Belmopan Bandits FC – People's Stadium
4:00 p.m. – Verdes FC vs Police United FC – Norman Broaster Stadium
Saturday, January 3
7:30 p.m. – Police United FC vs Belize Defence Force FC – Isidoro Beaton Stadium
Sunday, January 4
3:30 p.m. – Verdes FC vs Belmopan Bandits FC – Norman Broaster Stadium
Wednesday, January 7
7:30 p.m. – Belize Defence Force FC vs Verdes FC – People's Stadium
7:30 p.m. – Belmopan Bandits FC vs Police United FC – Isidoro Beaton Stadium