BELIZE CITIY, Mon. Feb. 10, 2020– The regular competition of the Belize City Primary Schools Basketball Tournament 2019-2020 ended today with 5 games scheduled, 3 male (M) and 2 female (F), at Swift Hall Gym. Quarterfinals in the male category will take place on Wednesday.
In game 1 today, (M) Holy Redeemer crushed Trinity Methodist, 29-1. Holy Redeemer – Jahmar Lopez 14 pts; Trinity Methodist – Cory Bevans 1 pt. Game 2, (F) Muslim Community, 2-0, over Queen's Square Anglican., with 2 pts from Britney Batiz. Game 3, (M) Queen's Square Anglican won by default over Muslim Community. Game 4, (F) St. Martin De Porres won by default over Wesley Upper. And game 5, (M) Wesley Upper won, 24-16, over St. Martin De Porres. Wesley – James Saldano and Thomas Garcia 8 pts each; St. Martin – Kyan Tench – 4 pts.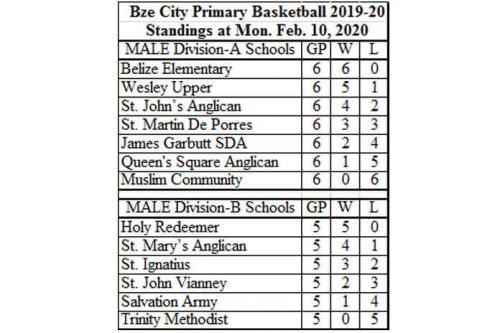 Male (M) quarterfinals schedule at Swift Hall:
Wednesday, February 12
1:30 p.m. – (M) Belize Elementary vs St. John Vianney
2:00 p.m. – (M) Holy Redeemer vs St. Martin De Porres
2:30 p.m. – (M) Wesley Upper vs St. Ignatius
3:00 p.m. – (M) St. Mary's Anglican vs St. John Anglican
GOOD LUCK TO ALL THE STUDENT ATHLETES!!