To be a high-ranking "civil servant" (as public officers were called back in my youth) was to be a member of a privileged native elite back in the colonial 1950s and 1960s in the old capital, which we now call Belize City.
By the time of Hurricane Hattie in 1961, my father had become the Postmaster General. His associates included Telford Vernon, my dad's close friend and the Commissioner of Income Tax; Alfred "Jack" Campbell and Cornelius "Pat" Cacho, who were highly placed in the Ministry of Finance; Bernard "Barney" Mahler, the Principal Auditor; Fred "Bado" Moody, who ran the Marketing Board; and Arthur "Artie" Barrow, who would probably have been the chief pharmacist at the old Belize City Hospital.
Except for Mr. Pat Cacho, a Garifuna, these men were all Creoles, and brown-skinned ones at that, with the exception of Jack Campbell, who was dark-skinned. Of these men, only my dad and Mr. Cacho, who lives in Florida, are still alive.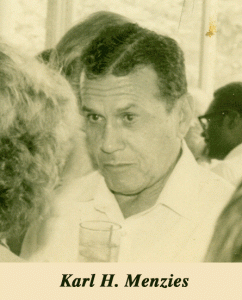 Karl H. Menzies, a light-skinned Creole, ran with these men, but he had not finished high school (probably didn't even start), as these men had, having been forced to begin working at a very early age because of family exigencies. Another ranking civil servant friend of my father's was Willie Longsworth, another light-skinned Creole who, I believe, was close to Karl H. Karl H. Menzies became a bigger financial success than all these men, and I believe there was a rivalry between Telford Vernon and Mr. Menzies. Karl H. had succeeded against substantial odds.
The civil service experienced a kind of culture shock in August of 1970 when almost the entire government bureaucracy moved to Belmopan, when that new capital was opened. I lost track of these men mentioned above, who were my father's contemporaries and colleagues. But, that distancing would have happened regardless of the move to Belmopan, because the birth of UBAD in 1969 had changed my life and my movements in a drastic way.
My father and his friends, specifically Barrow, Menzies, Vernon, Longsworth and Mahler, were much taken up with the hobby of racing sailboats. They spent many weekends and holidays at cayes like St. George's Caye, Sergeant's Caye, Spanish Caye, and so on, where they fished in the bountiful seas inside the Barrier Reef. (I would say the man Steve Heusner, who was the Fire Chief, associated with these men from time to time.)
There was one occasion when a sailboat trip of theirs experienced a major mishap, so that the men on that trip were marooned on sea for many hours. Barney Mahler went down in the group's history because of uttering classic, brilliant words when the men were finally rescued and taken to the nearest caye. In Latin,  the  word "terra" means "land," and "firma" means "solid," in at least one of its meanings. On setting foot on land, the famously witty Mahler sighed: "Terra firma, and the firmer the better."
Barney Mahler had two younger brothers who were midgets in size. One was Karl Mahler, who worked in the BEC office on North Front Street for many years, and was a senior official of the United Democratic Party (UDP) when it was formed in 1973. Karl's younger brother was Leo, whom most people called "Leo The Lion." At Spanish Caye as our family's frequent guest, Leo was a great, determined fisherman. Despite his diminutive size and mature years, he participated with gusto in the cricket and baseball games we Hyde children played at Spanish Caye.
He and I were very good friends, even though he was a fan of the Los Angeles Dodgers, especially Don Drysdale and Sandy Koufax, whereas I was all out for Willie Mays, Juan Marichal and the San Francisco Giants. I would spend late nights at the Mahler family home on South Street (near Wagner's Lane) listening to games between the Dodgers and Giants on U.S. Armed Forces Radio through Leo's short wave receiver.
In fact, one time Leo even took me to a grown-up dance at the Riverside Hall when I must have been 15 or so. I remember how amazingly polished the dance floor was, and how the grown women would enjoy running jokes and flirting with the tiny but spunky Lion.
Anyway, all these recollections/reflections are as a result of this week's Tuesday morning conversation between Nuri Muhammad and myself.  Inside the drama of the Heads of Agreement in March of 1981, Nuri Muhammad, Sandra Coye, Godwin Hulse, and Brother Abdus, spontaneous leaders of a large crowd of Belizeans, found themselves in historic excitement involving Radio Belize, at the corner of Regent and Bishop Streets. This is Nuri's story, and I hope he chooses to tell it to you soon.  (Older Belizeans know that Radio Belize, a government monopoly, was the most hated institution in Belize City at the time.)
I always thought this was taking place at night, but Nuri said it was in the daylight hours. Near the end of the excitement, the security forces began firing tear gas, and one of the canisters struck Barney Mahler in his head. My sense was that he had gone out there to the Treasury Building to secure his government office, but I stand to be corrected on this. For sure he was extremely fortunate to survive such a terrible head trauma, and Nuri told me it was he who had driven Mr. Mahler to the hospital.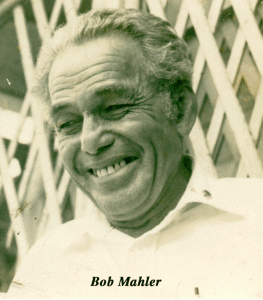 Incidentally, the Mahlers had an older brother named Bob Mahler, an engineer who was trained in the United Kingdom. Bob Mahler was a great sportsman, very active especially in boxing, and I believe softball.
The Mahlers also had a sister who married a Canadian who was teaching at St. John's College in the 1960s. They migrated to his home country, and that was the last I heard of them.
Nearing my conclusion, I recall that Buck Belisle, the maternal uncle who was my idol, in 1941 chose to travel to Panama to work when he was 19 and a messenger at the Treasury Department. As fate would have it, the teenager who got his job was my father, Charles B. Hyde. When Buck Belisle returned to Belize in December of 1946, his younger sister, my mom, was pregnant with me.
While Belisle had taken a different course from the civil servants I mentioned, he became linked with many of them on his return because he was the best sailboat racing captain of his generation. As such and because they were first cousins, Dean Lindo and my uncle had a special relationship. Dean Lindo loved yachting.
Lindo's career was different from that of the senior civil servants I have mentioned. He was younger than they were, and he studied economics at New York University in the middle and later 1950s, and then did law in England in the early 1960s. Shortly after his return home, he entered politics, joining the ranks of Mr. Philip Goldson's National Independence Party (NIP).
I see it as unfortunate for Belize's history that most of these men, to repeat, have died. Their stories have not been properly told.  Properly told, their stories would help to throw light on the moves Rt. Hon. George Price made in the late 1950s and 1960s to fight ethnic discrimination in the civil service. Mr. Price's opponents, at the time, condemned these initiatives as "Latinization".
Power to the people.
Related Articles
Share
About Author
(0) Readers Comments