While travelling with Rufus X in late February of 1979 in New Orleans, I came up with the idea of a small radio station which could cover Belize's population center – Belize City. I was not ambitious enough, presumptuous enough, to believe that Belize's power structure, featuring the Barry Bowen family, would tolerate the idea of a national radio station controlled by yours truly. Amandala, though not yet the leading newspaper in Belize, was already giving enough trouble to the Bowen family, because of our call, beginning around 1975, for our roots athletes to be paid some kind of remuneration for their services. Remember, in 1979 amateur sports like football and basketball generated gigantic gate and refreshment revenues in Belize City. And, Belizean boxers were being paid, had been paid for decades. In other words, the professional precedent was there.
When KREM Radio materialized on Partridge Street in November of 1989, support for the idea earlier in the year had represented a desperate, political gamble by people in the Opposition People's United Party (PUP) like Glenn Godfrey, Ralph Fonseca, and Said Musa, because the PUP had lost so badly in the previous general election – 1984. Because of our differences leading up to the 1984 general election campaign, Said Musa and I were not in much contact.  The man I spent a lot of time with leading up to the September 1989 general election was Glenn Godfrey, who lived a couple houses up Seashore Drive from me in Buttonwood Bay. Rufus X lived in the immediate neighbourhood, and he was a major player in KREM's initiation of broadcast on November 17, 1989, under the engineering direction of the late Rodolfo Silva, with J. C. Arzu as his technical right hand.
I did not agree with the initiation of broadcast, because KREM did not have an investment base, but Godfrey, Rufus, and Silva were the majority, and they had their way.
Almost as soon as KREM went on the air, various principals in the process, including my dad, C. B. Hyde, became excited about the idea of going nationwide, and of course, Belizeans in the districts who had been suffering from the boring drivel of Radio Belize from time immemorial, became excited about the possibilities of the new signal.
Three weeks after KREM began broadcasting, Glenn Godfrey informed me, casually, that the PUP Cabinet of Belize, sworn in after the PUP won the general election of September 4, 1989, had decided to privatize Radio Belize, or Friends FM, whatever the name of the longstanding government monopoly was at the time. In effect, Godfrey was telling me that KREM was dead, that the concept had only been used by the PUP leaders to win some necessary votes. (Older Belizeans may remember that we had previously referred to Partridge Street's private radio concept as Radio Amandala.)
So, at the level of the big boys, KREM was not supposed to survive. How it did is a long story, and should properly be told by independent academic/business researchers, but you and I know white supremacist Belize: the academics are scared to touch the subject, I guess. The fact of the matter is that this is a very, very interesting subject, because it involves high profile people like the aforementioned Barry Bowen, the spectacular Lord Michael Ashcroft, and the now very prominent Dr. Rene Villanueva, the chief executive officer of LOVE FM, which began the journey to becoming a national radio monopoly after it was licensed by Glenn Godfrey in early 1993. Rene had been running the government radio station at the time. It became evident when the PUP returned to power in 1998 that LOVE was a "chosen one," because when Radio Belize was divested in 1998 and 1999, LOVE got everything they wanted, and KREM only received crumbs. Straight up.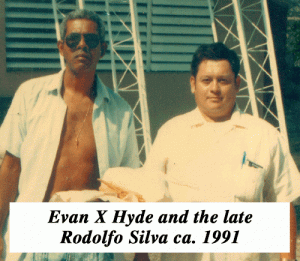 For me, the most intriguing aspect of the KREM saga has to do with the fact that there were young boys from the neighborhood working at Amandala Press on Partridge Street who, quite inadvertently, contribute mightily to KREM's early years of survival. These were, in the first instance, Maurice "Reesh" Williams, Earl "Lotto" Nunez, Willie Gordon and Jason Barrera, who would leave work folding the newspaper on Friday afternoons to catch buses to play basketball in district towns. At the time they would have been 14, 15 years old at the most, and that would have been around 1985 or so. Those young men became the core of the championship Kremandala Raiders after winning the Under-17 Princess Royal Youth Hostel tournament and Belize Basketball Association Under-19 junior tournaments. They were joined by youths like Evan "Duck" Garnett, Travis Santos, and Maino Bevans, and they became a sensation in the old Civic in the inaugural semi-pro basketball season of 1992. The popularity of the Kremandala Raiders, I submit, youth from the 'hood, contributed mightily to the victory of KREM Radio over Radio Belize leading up to the PUP government's conclusion in early 1993 that Radio Belize/Friends FM had failed to marginalize KREM sufficiently. Pressure from Belize's power structure probably influenced the PUP Cabinet to come up with the LOVE idea.
There is a powerful but sophisticated racism which operates in Belize. I have personally fought against this racism during my adult life, but there have been many people who look like us who have sold our people out during the journey. Nobody wants to hear any sad tales of frustration and failure, so we'll just leave that like that.
The result of the May 8 referendum on going to the International Court of Justice (ICJ) for final and binding arbitration on the Guatemalan claim to Belize, suggests that Belizeans of what we call color were more in favor of the appeasement "yes" vote than Mestizo and Mayan Belizeans were. I have to use the verb "suggest" because, again, the academics of Belize are missing in action.  We do not have definitive, crunched statistics to establish this. All we know is that the Belize District, which includes Belize City, Hattieville, Burrell Boom, Ladyville, Los Lagos, Sandhill, and so on, provided a solid "yes" majority which could not be critically reduced by border residents in Toledo and Cayo. The community of Benque Viejo del Carmen, which is arguably the most Guatemalan community in Belize, voted "no" to the ICJ. Incredible. Absolutely incredible.
 In conclusion, I would request that Belize's academics take a closer look at the media landscape in this nation. Political powerhouses from both the PUP, which ran Belize from 1989 to 1993 and from 1998 to 2008, and the United Democratic Party (UDP), which has run Belize from 2008 to the present day, apparently embarked on a policy of handing out radio licenses left, right, and center, so that Belize has moved from pre-1989 government radio monopoly to a situation where every interested politician, every serious religious leader, and any who can own his own radio station. Essentially then, the granting of the historic radio license to KREM in 1989 was symbolic. In other words, you Partridge Street troublemakers will be able to broadcast, but so will everybody else.
My present understanding is that Amandala newspaper is being sued for $30,000 worth of libel by the chief executive of LOVE FM – Belize's national radio monopoly. I have not been very active in Kremandala for a few months, but it seems to me that there will be previously unpublished material which will emerge when the legal combat between Slaughterhouse Road and Partridge Street commences.  The people of Belize will find out how the "invisible" power structure orchestrates the media realities in Belize.
Power to the people.