BELIZE CITY, Fri. Aug. 10, 2018– Two gas attendants working at the PUMA Coral Grove Gas Station at Mile 2 on the Philip Goldson Highway were held up and robbed by two bandits who escaped with some cash and a number of cheques.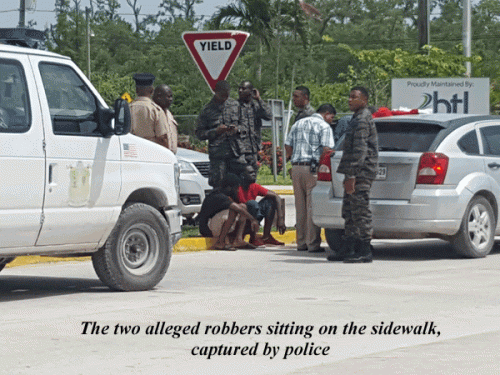 Police who responded to a report about the robbery, chased a car in which two men were traveling, and when they stopped the car, they found a loaded 9mm pistol in the men's possession. The men were arrested and charged with keeping an unlicensed firearm and ammunition, which were also found in the vehicle.
The incident occurred at about 12:30 this afternoon.  Michael Martinez, 21, of Belize City, said that two men, one of whom was armed with a pistol, came up to him and his co-worker, and the gunman pointed the gun at him and demanded money.
Fearing that he would be killed, Martinez handed over an undisclosed amount of money, along with cheques. His  co-worker was then robbed of about $400, and the two thieves then ran out of the gas station compound, onto the side street, and then onto Coney Drive, where a vehicle was waiting for them.
Information to us is that someone had seen a vehicle waiting outside the gas station premises and wrote the number of its license plates. Police were called and given the license plates number. Also police said that the vehicle was described to them and they began to look for it.
Deputy Commissioner of Police, Chester Williams, said that while patrolling in Lake Independence, they saw the vehicle described to them driving at high speed and they pursued the vehicle and were able to stop it at the junction of George Price Highway and the Lake Independence Boulevard.
There were two men in the car — Ijaman Young, 25, an unemployed Belize City resident, and Ryan Randolph Rhaburn, 21, a construction worker, also of Belize City.  The vehicle was searched, and police found a 9mm pistol which was loaded with 30 live rounds. The gun had an extended magazine, which is prohibited.
Both men were arrested and charged for keeping an unlicensed firearm, keeping unlicensed ammunition and keeping a prohibited material:  the extended pistol magazine.
Williams said that quick response to the robbery led to the arrest of the two suspects, and the seizing of the getaway vehicle and the gun.
During the regular weekly police press brief held today at the Raccoon Street Police Station, ASP Alejandro Cowo, Commander of Crimes Investigation, said that the gas station has not yet made an official report of the robbery.