BELIZE CITY, Wed. Mar. 1, 2017–Although preliminary crime data for the first two months of 2017 indicate that major crimes, including incidences of murder, are down, there is a troubling rise in gang-related crimes and particularly gang-related murders which tend to spark retaliatory action in the streets.
Our review of the cases revealed that more than half of the victims are under the age of 34, and at least three-fourths of them are of Afro-descent.
Information sourced from the Belize Crime Observatory (BCO – crimeobservatory.bz), showed a tally of 21 cases of sexual violence, 19 murders, 23 robberies, 109 burglaries and 98 theft cases.

The most recent murder occurred this weekend when Marcelino Chan, 54, was stabbed to death in San Roman, Orange Walk.
In its crime analysis for the month of January 2017, the BCO noted that there had been 17 gang-related major crimes, including 7 murders in the Belize District and primarily in the Belize City area. For January 2016, it reported 3 gang-related murders in the Belize City area.
Of the 20 murders so far this year—most of the victims shot to death—15 lost their lives in the Belize District and 12 in Belize City, where there has been a marked increase in deadly gun violence. Three of the murders, believed to be gang-related, occurred in the Conch Shell Bay area of Belize City.
By contrast, the period January to February 2016 recorded 22 murders, which means that the murder count has fallen by 3.
January's count dropped from 12 to 9, but February (which had one less day this year than last year) has seen 10 murders for the past two years.
There are also concerns over a rise in incidences of unlawful sexual intercourse with girls.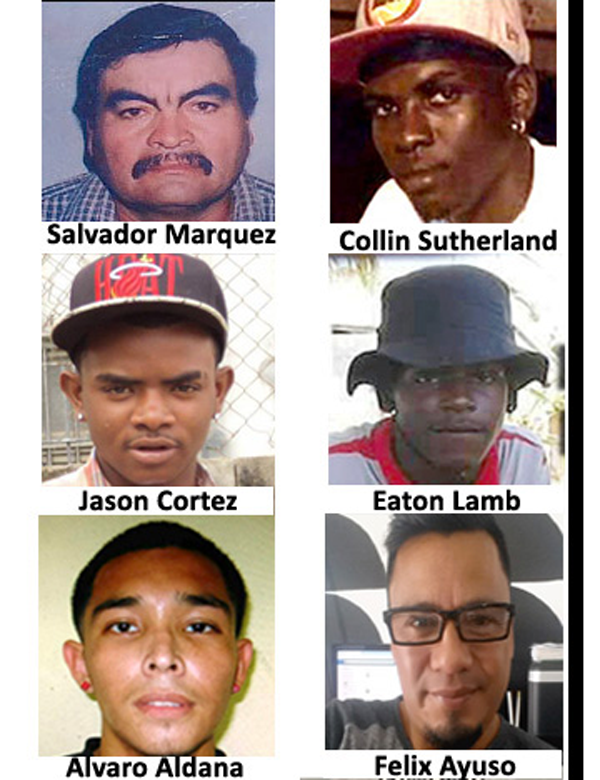 Above are some of the men who have fallen victim to violent crime in Belize.