BELIZE CITY, Tues. Dec. 19, 2017–Dean Nembhard, 21, who was shot in his arm by Dorian Usher when a group of four men (which included Nembhard himself) attempted to rob Monica's Pawnshop, was charged with robbing Usher when he appeared today before Senior Magistrate Aretha Ford. Nembhard pleaded not guilty to the charge. The court could not offer him bail because the offence was committed with a firearm. He was remanded into custody until January 31.
The incident occurred around 2:30 p.m. on Thursday, December 14. Usher, who is the son of Gilroy Usher, Sr., the owner of the pawnshop, located at the corner of Cemetery Road and Elston Kerr Street, reported to the police that he was inside the pawnshop with his sister and some employees when he saw four men enter the pawnshop.
He said he suspected that the men had come to rob the pawnshop, so he stepped outside. Apparently, the men thought that he was a customer and they held him up at gunpoint. He said he handed over to them his Cuban-link, 10-karat gold chain with diamond cut design and his gold eagle medal.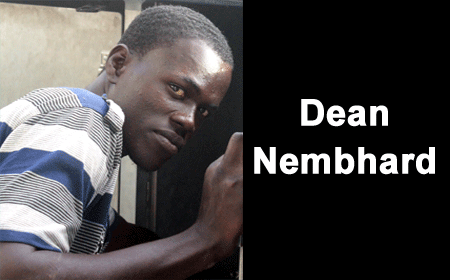 The total value of the jewelry is estimated to be $2,100. As the robbers were leaving, Usher drew his licensed pistol and opened fire at them. There was an exchange of gunfire and during that exchange, Nembhard was shot. He was apprehended by Usher, who held him until the police arrived. The other three suspects are still at large.