His family believes that he suffered a heart attack.
BELMOPAN, Tues. Oct. 22, 2019–At about 8:00 this morning Rodney Castillo, Sr. 70, of Hopkins, was driving his SUV from Hopkins to the Lands Department in Belmopan when on his arrival near the Western Regional Hospital, he lost control of his SUV and crashed into the left front portion of a parked car.
Castillo's vehicle then swerved to the left side of the road. He was taken to the nearby hospital, where he was declared dead on arrival.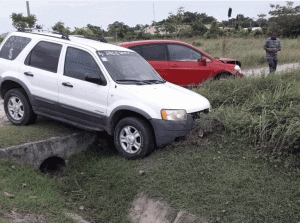 Castillo's brother, who went to the morgue to identify him, said that his brother suffered a heart attack. A post-mortem on Castillo's body, however, will certify the cause of his death.
Witnesses who saw the collision said that it was not a major collision. The car was seen with damage to its left front portion, and its left head lamp was broken. Minor damage was seen on the SUV, which ended up behind the parked car.
Rodney Castillo's death by a heart attack while driving has occurred about three months after Roderick Elijio, 57, a teacher, died in a crash on the Philip Goldson Highway on July 18.
Elijio was driving towards Belize City from Orange Walk when he lost control of his pickup, ran off the road and slammed into a tree, causing him to suffer head and body injuries that resulted in his death on the scene.
 Relatives believe that he suffered a heart attack while driving.