CHETUMAL, Quintana Roo, Thurs. Nov. 8, 2018– Romario Pech, 23, a resident of Yo Creek, has been found not guilty of manslaughter after being jailed in Chetumal, Mexico, for 17 months. Pech was accused of killing his cousin, Saul Pech, 19, at Saul's apartment in Chetumal on May 2, 2017.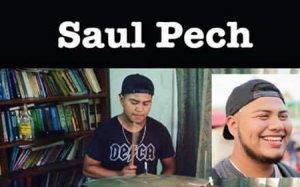 Although Pech was arrested last year, his trial only began about two weeks ago due to it being postponed for weeks after a riot broke out at the prison in which he was held. The trial was held without a jury and around midday on Thursday, November 1, the judge found Pech not guilty.
Romario Pech and Saul Pech were said to be as close as brothers, so it was alarming when Romario was accused of stabbing his cousin, who was enrolled at the Instituto Tecnológico de Chetumal (ITCH).  Romario, who was an anthropology student at Galen University, was reportedly drinking with his cousin and another man when a heated argument erupted, which caused Saul to be stabbed in the chest with a kitchen knife.
After the incident, Romario Pech was arrested by Mexican authorities. As of last Thursday when he was released, however, he had reportedly made his way back to Belize.