BELIZE CITY–It was an action packed two days of national high school basketball at Bird's Isle in Belize City on Friday and Saturday, December 12 &13, and when it was all over on Saturday afternoon, St. Catherine Academy girls of Central Zone (Belize City) and St. John's College boys, also of Central Zone (Belize City) were both crowned champions of the National Secondary Schools Sports Association (NSSSA) Bowen & Bowen 2014-2015 high schools basketball tournament.
The 4 female and 4 male teams, champions of their respective country zones – North, Central, West and South – were matched up in pairs on Friday, with the losers then playing for third place on Saturday, while Friday's winners would play for the championship on Saturday.
In the opener on Friday afternoon, Muffles College females earned a close victory over Sacred Heart College, 29-25. Yazel Sutherland top scored with 21 pts for Muffles, while Oniesha Burns had 10 pts for Sacred Heart.
Next was an exciting male encounter where San Pedro High came from behind to defeat defending champions Sacred Heart College in overtime, 62-60. Zimmer Perez 13 pts and Leroy Noralez 12 pts were high men for San Pedro, while Sacred Heart was led by Raheem Crawford 20 pts and Jovan Zetina 17 pts.
The second female match was another overtime thriller, saw SCA gain a hard fought 29-23 win over Delille Academy. Leading SCA was Indie Dixon 10 pts and Halle Spence 9 pts, while Delille was led by Starite Requena 16 pts.
Friday's action climaxed with what, in our opinion, should have been the male championship game, as it matched two excellent teams, with SJC coming away with a hard fought 52-48 win over Julian Cho Technical. Top scorers for SJC were Dudley Erskine 17 pts and Raheem Flowers 12 pts, while Julian Cho was led by Ernest Lambey 17 pts and Adrian Vernon 13 pts. Both teams were loaded with talent and demonstrated great team strategy and basketball fundamentals. Indeed, Julian Cho's Ernest Lambey, their most outstanding star, remarked that it was the first time they were meeting SJC and also their first time at the Bird's Isle court. While SJC established early dominance, Julian Cho stayed within striking distance, and came close to tying the game down the stretch. Some timely long range shooting from Raheem Flowers and expert ball handling by Sydney Bradley helped SJC to hold off the Julian Cho run in the last couple minutes. Julian Cho reportedly won both their South Zone playoff games by blow-out margins, and they were perhaps surprised by the level of skill and game strategy displayed by their SJC opponents, as well as SJC were apparently ruffled by the tenacity and talent confronting them on the Julian Cho squad. We would certainly pay to see these two meet again. From our vantage point, Saturday's male clashes were foregone conclusions.
In the female 3rd place game on Saturday, Delille Academy won, 36-24, over Sacred Heart College, with Starite Requena leading the way with 22 pts for Delille, while Kellsea Ward netted 8 pts for Sacred Heart.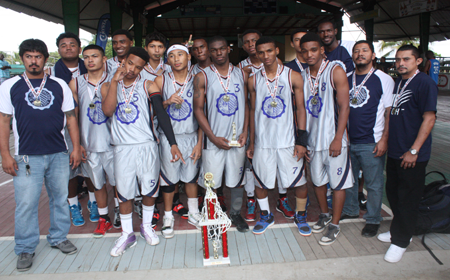 The male 3rd place match saw Julian Cho Technical cruising to a 58-46 win over Sacred Heart High. Adrian Vernon and Ernest Lambey scored 15 pts apiece for Julian Cho, while Jovan Zetina had 20 pts and Raheem Requena 10 pts for Sacred Heart.
The female championship game went down to the wire with SCA captain Brianna Jex and star defender Tricia Jefferies fouling out, but their teammates held on for the close 26-23 victory over Muffles College. Top scoring for SCA were Indie Dixon and Andreinae Samuels with 6 pts apiece, while Muffles College was led by Zelita Catzim 8 pts and Julia Puerto 7 pts.
In the male championship game, San Pedro High made a great effort, and they did well to avoid a blow-out, but the obviously better team won, and it was SJC registering the 53-42 victory. Scoring leaders for SJC were Dudley Erskine and Sydney Bradley with 11 pts each, while Erwin Henriquez and Zimmer Perez netted 6 pts apiece for San Pedro High.
In the awards ceremony after the last game, guest speaker Marshall Nunez, long time board member of tournament host Excelsior High School, applauded all the participating schools as champions of their respective zones, and remarked that the tournament should rightfully be dubbed a "champion of champions" tournament.
Female MVP of the tournament was Brianna Jex of SCA; and the male MVP was Kyle Pitts of SJC.


Related Articles
Share
About Author
(0) Readers Comments