BELIZE CITY, Thurs. July 23, 2020– On July 15, 2020, one month before the scheduled reopening of the Philip Goldson International Airport, a group of community organizers hosted a 2-hour protest against the reopening of the airport.
The community organizers, Makeada Marin, Nzinga Foreman and Yaya Marin Coleman, got together with their partners and hosted a protest that was small but mighty. There were about 35 participants in the protest at the historic Battlefield Park in Belize City at its height, holding up placards with words, "Nuh Open Di Airport" plastered on them.
The youth organizer, Makeada Marin, told Amandala that their current stance does not mean that they don't want the airport to open eventually, but they are urging the government to "let the COVID-19 numbers in America go down first, and let us come up with a better plan that works for everyone."
She explained some of their concerns, which included the possibility of an increase in infections, especially since the scheduled reopening of schools is on August 10.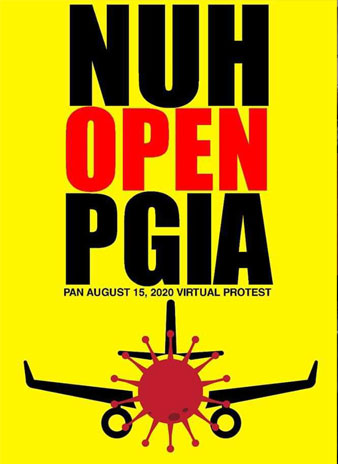 The expressions of protest against the scheduled reopening of the PGIA actually go beyond the limited physical showing at the Battlefield Park and are being "accompanied by a virtual protest that runs from July 15 to August 15, 2020". The organizers ask social media users to update their profile and cover photos with a graphic created by art activist Carlos "Lito" Quiroz to show solidarity with the initiative against the reopening.
They are also running an online petition, which, on July 22, 2020, had a total of 1,054 signatures. The petition contains a list of demands, which are outlined as follows:
"On behalf of people living in Belize, we petition the Government of Belize to delay the opening of the airport on August 15th, 2020 until:
1. Neighbouring border countries and the United States of America have sufficiently flattened the pandemic curve to European/ Asian standards.
2. Full consultation on COVID-19 Response Plan in every district and major village and town.
3. Data-driven feedback in real-time on Belize COVID-19 Status through the platform of an official application or website.
4. COVID-19 age-appropriate educational campaign in major/national spoken languages.
5. Impartial and Adequate Investment in comprehensive COVID-19 responses in the event of a surge (community spread) in cases.
6. Continued 2-week mandatory quarantines for all people entering Belize."
"We demand that the Government of Belize act on behalf of all citizens of Belize for the health and security of the nation. When you choose to sign this petition it is an act of solidarity and an expression of people power," the online petition further states.
Marin reaffirmed the need for Belizeans to stand up for ourselves and look out for each other at a time when we're all affected by the global pandemic.
All the details about the petition and the virtual protest can be found on the Krem Sunday Review Facebook page.