BELIZE CITY. Wed. Sept. 8, 2021– Today, police arrested and charged three lawmen in connection with the killing of BDF soldier Jesse Escobar, which took place on Sunday night in the village of Santa Familia, Cayo District.
The triggerman and alleged murderer, 32- year-old BDF soldier, Raheem Valencio, was charged for the crime of murder after a file of the case was handed back to police by the Director of Public Prosecutions (DPP).
The other two lawmen at the scene of the shooting, police officer Juan Morales, who allegedly also fired a shot (reportedly at the ground) at the time of the incident, and the other BDF soldier, Ramon Alcoser, were charged with preventing the course of justice.
The men appeared in the Belmopan Magistrate's Court of Justice Ed Usher this afternoon for arraignment. The charge against Valencio was read to him, and he was subsequently remanded to the Belize Central Prison due to the indictable nature of the murder charge.
The other officers may have received bail.
According to recent unconfirmed reports, Valencio is now claiming that he accidentally pulled the trigger after being alarmed by the shot fired by Morales while an unarmed Escobar was approaching the two.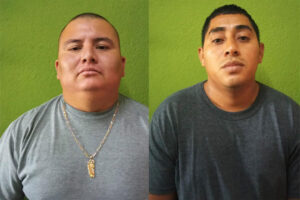 Morales, who recent reports indicate was a Special Constable and not a trained police officer, will be placed on interdiction pending the outcome of the case, says Commissioner of Police Williams.
This afternoon, Attorney Oscar Selgado, who is representing Raheem Valencio, told local media that his client was composed. He said that the investigation is still in its its early stages and a number of months may pass, as is normally the case in these high-profile cases, before the defendants appear before a high court for preliminary inquiry.
Selgado even remarked on the surveillance video of the shooting that has been circulated in the public domain. He said that only a trained eye would be able to fully appreciate the content of the video. He added that the video has not been tendered into evidence as yet.
The hearing of the case is set to resume on November 30, 2021.