CAMALOTE, Cayo, Mon. May 13, 2019– Thousands of Belizeans and visitors to Belize who pass by Mile 50 in Camalote in the month of May have been captivated by the beauty of two stunning flamboyant trees growing side by side on the side of the highway, on the Pommels' property. Hundreds of tourists have stopped to take photographs of the two spectacular flamboyant trees, which have been there well over thirty years.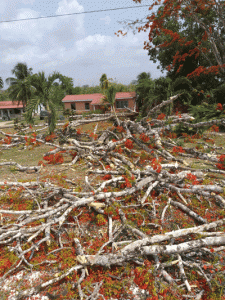 The Wikipedia says, "Delonix regia (the flamboyant) is a species of flowering plant in the bean family Fabaceae, subfamily Caesalpinioideae. It is noted for its fern-like leaves and flamboyant display of flowers. In many tropical parts of the world it is grown as an ornamental tree and in English it is given the name royal poinciana, flamboyant, flame of the forest, or 'flame tree' (one of several species given this name)."
An itinerant television/computer repairman, Karl Bennett, who used to make stops all over Belize to do repairs on electronic appliances in the 1980s, said that landscaping is one area in which he thought our country fell down badly. Karl had spent years in the USA, and he said our landscape couldn't compare with theirs. He said that most homeowners in the USA put in special effort to have their yards adorned with flowering trees, and it was his hope that we, the Belizean people, would one day be as devoted as the Americans were about making their surroundings more beautiful.
The Camalote/Roaring Creek/ Teakettle area has a number of nice flowering trees – bukut, fiddlewood, Mayflower, kraabu, other flamboyant – but the flamboyant trees at Mile 50 in the Pommels' yard dominated. They are in hundreds of albums across the world. They won't be taking pictures of one of them anymore.
The flamboyant is a native of Madagascar. We don't know who brought it to Belize, but whoever did, did a good job. Edicionesgiditales.info says "It reaches a height of 50 feet, with a trunk 2 feet in diameter. The crown is umbrella-shaped and is frequently wider than the height of the tree."
The flamboyant tree is a soft wood, which makes it not too wind tolerant. The tree came down without any warning. There was a cracking sound, a thud, and people looked out and the tree wasn't there.  The trunk fractured near the base, and the tree split apart. A close observation of the trunk revealed that a palm tree had rooted in one side of it, and this led to cracks which let in water that caused the trunk to rot.
One of the difficulties for Belize in the area of landscaping is that our yards are too small. People want to plant trees but after you put the house and set aside a spot for a vehicle, maybe, there isn't much space left. People who have the yard space should make the effort to plant magnificent flowering trees, to make our Jewel more beautiful.
Some people insist on planting big trees near their fence lines. It is a wonder that we don't have more quarrels in Belize about tree roots and tree canopies invading our neighbors' spaces. Maybe we get by because we all enjoy the beauty of trees, and there are only a few people who dare to quarrel when their neighbors pick fruits from branches that hang over fences.
One tree still stands, so the roadside at Mile 50 hasn't lost all of its beauty. What a wonderful thing it would be if all along our highways there were beautiful trees showing off their splendor in March, and April, and May. The flamboyant tree is a quick grower, so they can become delightful additions to the landscape very quickly.