by Kory Leslie (Freelance Writer)
BELIZE CITY, Fri. Jan. 20, 2023
Last Friday, St. Catherine Academy celebrated 140 years of service to the country, which was highlighted with a series of festivities.
On Friday, the Sisters of Mercy hosted their 140th Foundation Day Parade, and a "Mercy & Me" panel discussion featuring some of Belize's most prominent women as guest speakers, including area representative for the Albert Division, Hon. Tracy Panton; newly appointed Justice of the Court of Appeal, Madam Michelle Arana; and C.E.O. of Great Belize Production Ltd. and former Channel 5 news anchor, Marleni Cuellar.
Hon. Panton was first to take to the podium to share her gratitude for the contributions that SCA has made to Belize and to her personally:
"I wish to personally express my gratitude to the Sisters of Mercy, whose selfless undertaking to travel from the shores of Dallas to the shores of Belize in 1883 and to invest their collective effort in providing meaningful academic opportunities for young girls. This has forever changed the trajectory of our Belizean society in a way few other singular undertakings have ever had since. It is safe to say that the four years I had at SCA were among the most formative in my adult life and the most transformative to date. Let me assure you, that your time here at SCA is building the foundation you need for life. Whether you're building a family, a career, a business or have chosen to follow a certain professional path, it is important to build a solid foundation. The holistic development of each young woman that walks through the gates of this high school compound is what distinguishes St. Catherine Academy, in my view, as a center for excellence. My academic development at SCA has been paramount to my own professional growth. Academic excellence and innovation continue to be at the hallmark here at SCA," she remarked.
Marleni Cuellar also praised her alma mater, and stressed to the students in the audience how integral the academy has been in shaping the lives of hundreds of professionals across the country:
"You celebrate a hundred and forty years of contribution of a group of women tied to their faith and service that have offered us a lot to celebrate. And I say us, as past graduates, and us including you, because I guarantee you over the course of your life, you will continuously benefit from the time that you have spent here. SCA is an incubator for some of the most brilliant female minds in today's society. Today, I can seek specialized service, from mental health services, physical health services, legal services, marketing services, financial services, I.T. services – I could go on and on, including entrepreneurs all over the country. And I'm only giving you examples from my graduating class. I dare you to ask your teachers to throw out a profession where there has not been an S.C.A. graduate who has played a pivotal role in establishing themselves in that industry or sector," she said.
Justice Arana echoed these sentiments with personal anecdotes of her own, attributing her own success and the success of past and future SCA graduates, to the efforts of the Sisters of Mercy:
"The Sisters of Mercy led us by their example and, as I have often said publicly on previous occasions, even the hope and dream of attending SCA was strong enough to propel women like my mother to study hard and achieve academic excellence on their own in the face of great challenges. As SCA graduates, we have been taught to care for the less fortunate and to do our best to contribute to the betterment of society. The legacy of the Sisters of Mercy is one of which we can all be proud, and I give God abundant thanks to all that they have done for me."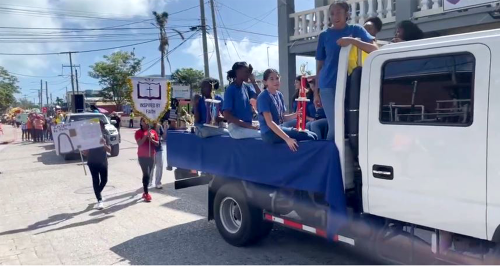 The panel and parade were followed by a 140th Foundation Day Mass which was held on Saturday to close the celebrations last week.