BELIZE CITY, Mon. Sept. 30, 2019– Week 9 is in the books, as only 5 regular season weeks remain in the 2019-2020 Premier League of Belize (PLB) Opening Tournament. With the race to the top-4 playoffs taking shape, standings leaders Bandits Sport and Verdes FC are still undefeated, while newcomers Freedom Fighters Valley Pride FC are yet to gain a victory, and defending champions San Pedro Pirates FC are in danger of "drawing" themselves out of the playoffs with yet another draw this past weekend.
In the only Week 9 Saturday night game, home standing San Pedro Pirates FC held a first half 1-nil lead through an early strike by Henry Vivas (17'), but visiting Altitude FC got a late goal from Colombian Andres Orozco, to secure the 1-1 draw at Ambergris Stadium, the record seventh draw game this season for the Pirates.
All 3 Sunday games were decisive. Struggling Placencia Assassins put up a good battle on their home turf, but visiting Bandits Sport made the first half goal by their Honduran midfielder Kevin Guevara Vicente (29') stand up for the 1-nil road win. Meanwhile, at the Carl Ramos Stadium in Dangriga, visiting BDF FC cruised to a 4-0 victory over winless FF Valley Pride FC, with a goal apiece from Camilo Sanchez (12'), Jesse August (40'), Jaren Lambey (44') and Justin Trapp (79'). And at the Norman Broaster Stadium, new Wagiya SC head coach Francis Flores saw his team come up short, 2-nil, against the Green Machine, Verdes FC, who got a very early goal from Trimayne "Peppa" Harris (2') and a late one from Desmond Wade (85') to seal the 2-0 home victory.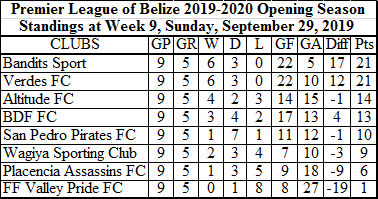 Upcoming Week 10 games:
Saturday, October 5
7:30 p.m. – Altitude FC vs Bandits Sport  –  M.A. Stadium
Sunday, October 6
3:30 p.m. – Placencia Assassins FC vs San Pedro Pirates FC  –  Placencia Football Field
4:00 p.m. – BDF FC vs Wagiya Sporting Club  –  MCC Grounds
4:00 p.m. – FF Valley Pride FC vs Verdes FC  –  Carl Ramos Stadium
PLB tournament breaks one week for Nation's League matches:
Concacaf Nation's League schedule:
Thursday, October 10
8:00 p.m. – Belize vs St. Kitts & Nevis  –  Isidoro Beaton Stadium
Sunday, October 13
4:00 p.m. – St. Kitts & Nevis vs Belize  –  Warner Park, St. Kitts & Nevis
PLB tournament resumes with Week 11:
Saturday, October 19
7:30 p.m. – San Pedro Pirates FC vs Verdes FC  –  Ambergris Stadium
8:00 p.m. – Bandits Sport vs BDF FC  –  Isidoro Beaton Stadium
Sunday, October 20
4:00 p.m. – FF Valley Pride FC vs Placencia Assassins FC  –  Victor Sanchez Union Field
4:00 p.m. –  Wagiya Sporting Club vs Altitude FC  –  Carl Ramos Stadium