BELIZE CITY, Thurs. Sept. 5, 2019– World Suicide Prevention Day will be observed in Belize on Tuesday, September 10. It is a day of hope, to remind people that no one should die by suicide, that those who desire to take their life can be helped.
On Monday, September 9, the Suicide Prevention Day Flag will be raised during a ceremony at Wesley College on Yarborough Road in Belize City, and flags will also be raised at high school compounds throughout the country, at small ceremonies.
The administrator of the Mental Health Unit, Nurse Eleanor Bennett, said that it is important to recognize Suicide Prevention Day.  She said that a major underlying factor for suicide is depression, which is very treatable. She said it is hoped that persons with suicidal thoughts, or persons who are depressed, will begin the conversation and seek help. She said the day is also set aside to remember those who died of suicide, and to keep in our thoughts families who lost loved ones to suicide.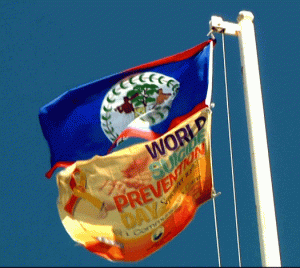 During a discussion with us today, Nurse Bennett said that the theme for this year's Suicide Prevention Day is, "Working together to prevent Suicide," and also, the theme for the upcoming Mental Health Day, celebrated on October 10, is "Suicide Prevention."
The organizing committee for Suicide Prevention Day, recognizing that most suicide attempts are carried out by people of high school age, has decided to try something different by raising the flag at high schools this year.
Bennett said that there will be a week of activities in relation to Suicide Prevention Day, beginning with the flag-raising on Monday, and it will continue throughout the week with talks on suicide prevention and mental health issues at schools and with members of the community at their places of work. She said that even after the flag is lowered, after September 10, the effort will continue to prevent suicide.
Bennett said that the main message for the year's theme is to work together with your friends, colleagues and family to prevent suicide, and she said that one way to do that is by paying attention to them, not being afraid to ask questions, and to observe things happening around them.
Parents are advised to observe their children, to look for signs of depression, and to not be afraid to ask them if they are contemplating suicide. She said that if parents observe changes in the behavior of their children, they should reach out, and take them to the clinic, or advise them to seek help.
Bennett said there are trained Mental Health Nurses at all major clinics throughout the country, and at the Mental Health Unit, and a 24-hour system is in place to help persons who are contemplating suicide or are suffering with mental issues.
"Each one is his brothers' keeper. Look for signs of depression, reach out and work together to prevent suicide," Nurse Bennett said. She emphasized that persons in danger of committing suicide need to know that the situation that they are going through is temporary, and that help is available if they seek it.
Nurse Bennett said that it is the usual trend that more men commit suicide than women, but more women attempt it. There were 31 suicides in the country in 2018; 27 of them male and 4 females.  The methods men use are more lethal, and these include shooting or hanging themselves. Women usually swallow a lot of pills or drink poisonous substances.
The Belize and Cayo Districts, the two most populated districts in the country, had the most suicides in the country in 2018, and they have historically been the districts with the most suicides. The age group most likely to commit suicide is 25 to 29 years old.
In the five-year period, 2012 to 2016, 120 persons died due to suicide, an average of 2 persons per month. Ministry of Health (MoH) personnel noted that for every death due to suicide, three persons tried and failed.
Seventy-five of the suicide deaths recorded during the 5-year period were by hanging, and most of the others were due to self-inflicted gunshots, blades, and poisoning.
In 2017 there were 22 suicides.
A MoH spokesperson said that one suicide is too many, and that is why Belize began observing World Suicide Prevention in 2011, on September 10, along with other countries.