BELIZE CITY, Thurs. June 18, 2020– On Tuesday, June 16, the National Institute of History and Culture (NICH) issued a press release confirming that it has terminated 6 percent of its work force. Citing the economic downturn caused by the pandemic, the NICH release explained that the organization would try to retain most of its staff.
Yesterday, however, another picture began to emerge in relation to the terminations at NICH. Four of the terminated NICH staffers penned a press release detailing how their termination came about. They alleged that their termination has nothing to do with the financial difficulties facing the institution, but is as a consequence of more sinister motives by the NICH president, Sapna Budhrani, against whom they made blistering criticisms, describing her management style as "autocratic," and their termination as a "farce."
The press release was signed by Karen Vernon: former Theatre Director, The Bliss Center for the Performing Arts, ICA-NIC; Suzette Zayden, former Coordinator, Film and Media Arts Unit, ICA-NICH; Jackie Castillo: former Creative Industry Development Officer, ICA-NICH; and Teresita Torres, former Administrative, Finance Assistant/ National Celebrations Commission (NCC's) Secretary, ADMIN-NICH.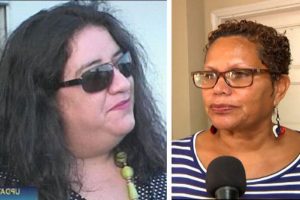 (l-r) Jackie Castillo, Teresita Torres, Suzette Zayden and Karen Vernon
The four women ended their press release saying, "We were victimized for speaking up about our concerns regarding NICH's management. As such we implore the Minister responsible for Culture to restore proper fiscal management, transparency and due process within the Institution as soon as possible."
The women said in their press release that they are aware that "NICH would be spared, but to ensure that the Arts and Culture remain a vital part of our economy, we were prepared to endure the financial storm."
The release went on to say, "On April 29th, during the SOE and lockdown, the president of NICH hosted a Zoom meeting in which she outlined a "proposal". That proposal was a reduction of salary by 50% as part of a series of ideas to cut costs at NICH. This would be for an initial 2 months (May & June), during which time NICH's financial position would be monitored and staff appraisals carried out to determine redundancies. The staff voiced concern at the size of the cut.
"On April 30th, the president sent a letter informing everyone that that they had until May 7th to respond to whether they agreed or not to the 50% salary cut. After May 7th, she shared that 95% of the staff were in agreement. We were in the 5% expressing reservations. The two senior managers were informed that unless they changed their vote to yes, they would be immediately terminated. With that understanding, our votes were changed.
"On Monday, June 15th, 2020, irregular deposits from NICH were noted in our respective bank accounts. Explanations were sought from the accountant and then the HR officer, none of whom knew what we were referring to. After 5 pm, we received emails from HR informing of our immediate termination.
"To say we are disappointed in how our termination was handled would be an understatement. The blatant lack of due process and respect for employees of NICH was glaring. Where were the staff appraisals that were promised?
"For an institution founded on the principles of tolerance, respect and mandated to safeguard culture in all its diversity, to treat its employees, who have dedicated over 10 years of service so reprehensibly, shows little regard for the employees and the culture sector. To then blame, NICH's current financial mismanagement on COVID19 is disingenuous, duplicitous and A FARCE.
"From the day she took office, the current president, despite having no experience in managing a cultural institution, has operated in an autocratic manner, which raised a number of red flags for the then internal auditor. She was later suspended by Cabinet under a cloud of suspicion. The whistle blower, the then internal auditor, was later fired.
"To staff's complete consternation, NICH has never replaced the following key positions which are critical to the effective management of the institution, that have been vacated during this president's term. These are: Administrator; Internal Auditor; Business Development Manager and Human Resources Manager.
"Without an adequate system in place for staff to lodge grievances in a fair and reasonable manner, they work under constant fear of being victimized if they voice dissent," the release said.
Upon closer analysis of the press release sent out by NICH on June 17th, it is hard to believe that cutting staff by 6% would ensure NICH's survival.
Budhrani was appointed president of NICH in July 2018. By August 2018, an internal audit that was leaked to the media made disturbing allegations of mismanagement against her. She was suspended, but Cabinet re-instated her in September 2018 with the full support of Minister of Education, Youth and Culture, Hon. Patrick Faber.
Feature photo: NICH president Sapna Budhrani