On December 22, 1969, my mother, Marilyn Young, gave birth to me at Belize City Hospital in Belize City. Marilyn's cousin was the great boat builder, Simeone Young. I was the second of what would be seven children that my mother would give birth to. My birth certificate has a blank space with a line through it where my father should have been listed. Starting at a young age, I would often ask my mother about my father. She would ignore me at first. If I asked too often, she would throw things at me and tell me to shut up. My deepest desire was to know my identity and who brought me into this world.
I remember wanting desperately as a child to attend St. Catherine Academy, but because of my financial situation it was impossible. All throughout my childhood I was told that I was a child of a British soldier, a shali baby. My siblings and cousins would tease me because I had a lighter skin tone. They nicknamed me the "white roach." In 1975 I lived in a small back house behind my grandmother's house with my mother and siblings on New Road. My mother loved to hang out so much that her family and friends nicknamed her "Coolie." She would stay out and party at all hours. My aunts decided that the only way to stop her was to tear down the house we lived in. This forced my mother to give all her children away, with the exception of one of my brothers. My grandmother, after finding out I was about to be given away, took me in. I was raised like a rolling stone, moving back and forth from my grandmother, aunt and mother.
As the years went by I was convinced that I was a soldier's child. I moved to New Jersey in the United States in 1988. In 1990, after continual prodding from me, my mother told me my father may have been a man named Tillett or Gillett. I found a family friend named Tillett who I was told might have dated my mother. He offered to take a DNA test and was excited that I might be his daughter. Unfortunately, the DNA results were negative.
Gonzalo Matus and daughter Michelle Young-Botti
In 1992, I met my future husband, Joe Botti, got married, and had three wonderful children. In the back of my mind I still longed to know who my father was or even if he was still alive. I did not feel complete without knowing my identity. I was unsure if my mother really didn't know who my father was or if she just didn't want to tell me for some reason. Was my father really a soldier? Was he a one-night stand that she met in a bar? Was he someone she cared for but who rejected her? Was he married and my mother was protecting his identity? All of these questions entered my mind.
My mother purchased a small home on Jasmine Street in 2002. She would travel back and forth from Belize to the United States. She would work as a live-in nanny in the United States, and when she returned to Belize she would sell clothing that she purchased in the U.S. by the Swing Bridge. The years went by and my mother grew ill from a muscular disease. I continued to ask her if she recalled anything about my father, but she would shoo me away by saying, "haul you're a—."
In 2016 my husband urged me to take a DNA test, with the company "23 & Me," to try and find clues about my father's heritage. The results stated I was 21% Sub-Saharan African, 27% East Asian/Native American and 39% European, with 20% of the European ancestry being from Spain or Portugal. I was wondering if my father could actually be a British soldier who had a strong Spanish background. I was advised by the DNA company that they would make my DNA results sharable on the website. I started getting notifications of potential third and fourth cousins, some recognizable and others not so much. None brought me closer to finding my father.
On November 16, 2016, my half-brother Devon Young, who lived in Los Angeles, died of a heart attack. On May 22, 2017, my half sister Mesari "Lottie" Young died from cancer.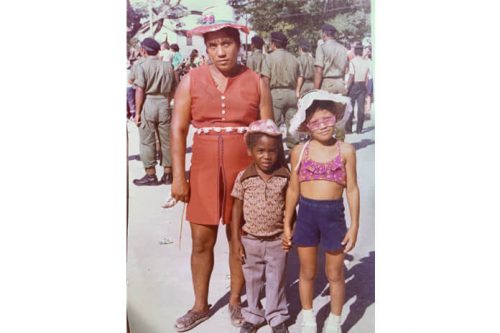 (Left to right) My mother, Marilyn Young; my brother, Deon Young; and I, Michelle Young-Botti in 1976, St. George's Caye Day, September 10th Belize City
In May of 2017 I brought my mother to the United States when she grew too ill to care for herself. As she withered away I felt that the hopes of my finding my father were dying with her. In the early morning hours of December 22, 2017, my birthday, my mother died from her illness. I mourned my mother immensely. She was a very complicated woman. Even though she gave most of her children away, we were all still drawn to her. I guess we were trying to get the attention from her that we were denied in childhood. A few months after my mother's death I realized that any hopes of finding out about my father had died with her.
Nearly a year passed when in September of 2018, I received notification of a 1st cousin DNA match with a man named Adrian Binnion of Houston, Texas. I called my aunts and cousins, and no one knew of a relative by that name. I called Adrian and asked him who his parents were, and he advised me that his father was Jason Barry Binnion, deceased, and his mother was Yolda Matus. I spoke with Yolda and asked if I could come meet her and take a DNA test with her to confirm if we were related or not. Yolda was very receptive. I flew down to Texas in November of 2018, and after a few weeks we received notification that Yolda was indeed my aunt. This meant that one of Yolda's brothers was my father.
The Matus brothers were known in Belize for their many business ventures, including Charger Beer, which in the 1970's outsold Belikin Beer in Belize. I was filled with excitement. I was also apprehensive to contact the brothers for fear of upsetting anyone's marriage. After researching I discovered that none of the brothers were married when I was conceived. This made contacting the brothers much easier. I sat down and wrote each brother a letter. To my amazement the Matus brothers and their spouses were very receptive. In March of 2019 I flew down to Florida and met one of the brothers, Roque Matus, and his wife, Ava. Unfortunately, our DNA test came back negative for paternity.
Two Matus brothers, Gonzalo and Ismael, still lived in Belize. Another brother, Rene, was deceased, but his children lived in Chetumal, Mexico. I decided to take three DNA tests and fly to Belize and drive to Chetumal. Everyone in the Matus family welcomed me with open arms. As my Aunt Ava jokingly stated, "We shall see who is gonna have the noose around their neck."
After I returned to New Jersey I prayed as I anxiously waited for two weeks to receive the results. On a quiet Friday morning I received a call from the DNA company. I was advised that there was a match. The results came back that Gonzalo Matus was my father. My 49-year search for my father was over. To my delight he was not a British soldier, but a true Belizean. Gonzalo barely remembered my mother. Apparently, they only had one brief encounter. My mother had worked at the Williamson Factory, and that's where she and Gonzalo most likely met, as the Matus brothers would pay seamstresses extra money to work on sewing items for them after work.
I extended an invitation for my father to come and spend a few weeks with me in New Jersey. To my delight, he and his wife Therese accepted. Therese and Gonzalo married four years after I was born. Therese's father was Nicholas Pollard. He was one of the PUP political party's original Guayabera Gang.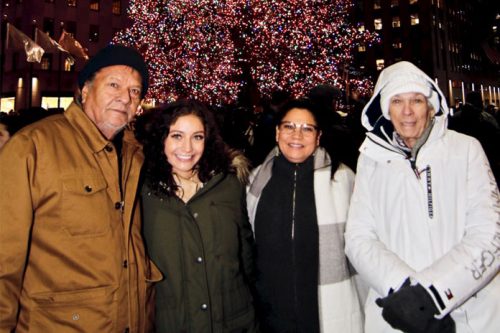 Last picture at Rockefeller Center in NYC at Christmas tree lighting – (left to Right) Gonzalo, Jenna Botti, Michelle Young-Botti and Therese Pollard-Matus
In November 2019 Gonzalo and Therese arrived in New Jersey. Gonzalo was able to meet his three new grandchildren, Michael, 26, Joshua, 22, and Jenna, 21. We took Gonzalo and Therese to New York City, and they actually had the wonderful opportunity to see and taste snow for the first time in their lives. Gonzalo stated that he was sad that he missed out on knowing me for all those years, but he was hopeful that we could make up for the lost time. Gonzalo loves being a father to his four children, Arturo, Tessa, Jordana, and Laura, and he is thrilled to add me to his family. As Gonzalo jokingly stated, "I just added another mango to my mango tree."
Gonzalo brought tears to my eyes when he offered to add his name to my birth certificate. Unfortunately, we have been having a difficult time getting Vital Statistics to add his name. He has returned over ten times, filling out many forms, only to be continuously turned away. After giving Vital Statistics all the documents they requested, they still refuse to add Gonzalo as my father. It is my hope that someone in Belize's government reads this article and helps this formerly fatherless Belizean girl finally have her father officially documented. Gonzalo refuses to give up. He is fighting to have his name added to my birth certificate.
Three years ago I tragically lost three family members, but this past year I have gained a whole new side of my family. I guess God felt He needed to save this joyous surprise for when my heart needed it most. I can finally have the blank space with a line through it for a father on my birth certificate officially replaced with the name Gonzalo Matus, my father. It took me finding my father to realize that while I was searching for my father all these years my Heavenly Father was watching over me and guiding me.
Feature photo: Gonzalo Matus with his new family Left to right – Joshua Botti, Michelle Young-Botti, Gonzalo Matus, Therese Pollard-Matus, Jenna Botti, Michael Botti and Joe Botti