Mother, 31; son, 4; and stepfather, 27, die. Daughter, 2, under observation in KHMH
BELIZE CITY, Mon. Mar. 16, 2020– At about 9:00 last night, bullets rained into a home on 6th Street in which Shakira White, 31, a housewife, and her boyfriend, Philip Leslie, 27, a "paletas" and food vendor, and her two children, 4 and 2, lived.
They were about to go to sleep when a gunman or gunmen stood outside the house and fired into the lower flat of the two-flat timber house, where the couple and the two children were in the bedroom. The shooter/s then ran from the house. After the shooting, there were multiple bullet holes in the zinc walls of the house.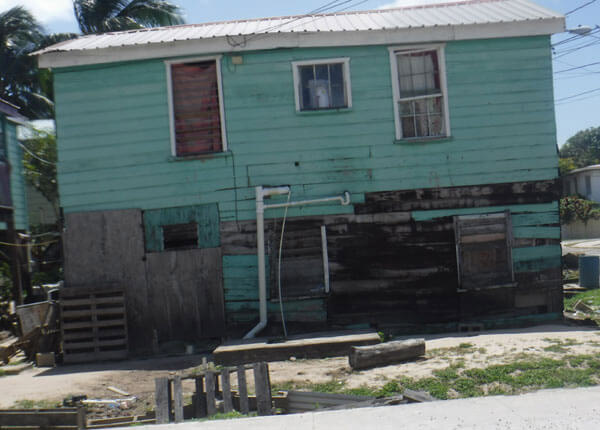 The lower flat of house where the couple and children were shot
Shakira White was found with 17 bullet holes in the front and back of her body, and Philip Leslie's body was found with 14 bullet holes. White's son, Dominique Rhamdas, 4, had four bullet wounds in the chest, abdomen, shoulder and leg, and their daughter, 2, was grazed on her knee.
White and Leslie died almost immediately, and tonight, the sad news to us is that Dominique, the 4-year-old, has died.
Andrea Blease, 45, White's aunt, who lives in an elevated house in the yard, told us this afternoon that the family is at a loss for a reason for the brutal murder of her niece and her boyfriend, because White was a stay-at-home mother who took care of her house, children and her boyfriend, Leslie, who sold paletas on weekends, and sold pizza on weekdays to schoolchildren.
She said that on Sunday evening, he came home and relaxed a little after selling paletas. He then took the paletas cart to the owner and returned to the house to be with his family. There was nothing out of the ordinary, no sign of danger, she said.
Blease said that many children live in the yard, and they would usually be out in the yard playing, but that Sunday night, everyone went inside early.
At about 9:00 p.m., she became alarmed by what seemed to be multiple explosions, but could not believe that it was gunshots and not firecrackers. Her husband then told her that White's house had been "shot up".
After the shooting abated, they went down to White's house to investigate, and that was when they found Leslie already dead on the bed.
White was moaning and her son was unconscious, and her daughter was crying. They were rushed to the hospital. On arriving at the hospital, White was declared dead.
Blease believes that when the shooting began, White covered her daughter to protect her, so the little girl was not hit, except that her knee was grazed. White died protecting her daughter.
Blease said that Leslie came to live with White in their yard about three months ago, and that White had been living in the yard all her life. She said that Leslie was mannerly and was not a violent person, nor was he affiliated with any gang. She said that this is the first time that such violence has occurred in their yard.
Supt. Alejandro Cowo of the Police Department said that police have begun an investigation, but so far, the motive for the brutal attack on the family is not known, and they cannot say with certainty who was the target of the shooting.