BELIZE CITY, Fri. July 28, 2017–The National Department of Transport is considering suspending the Road Service Permit for the J&J Bus Company that travels from Benque Viejo Del Carmen to Belize City, to Chetumal, and charging one of its drivers after a disgusted passenger took a video of the bus operating in what seems to be a reckless manner on the highway.
The video shows the driver of the J&J bus deliberately using the bus to block and impede another bus from passing. The incident occurred yesterday on the George Price Highway.
The video shows a Sylvan bus trying to overtake the J&J bus, both of them traveling to Belize City. The J&J driver was deliberately monopolizing the road, using two lanes so that the Sylvan could not overtake him.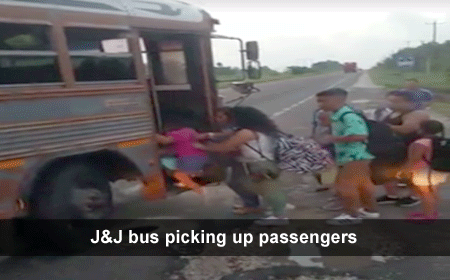 When a Coke truck overtook the J&J, the Sylvan bus tried to squeeze in behind it, but the J&J bus then lurched back into the middle of the road, causing the Sylvan bus to have to slow down.
When the buses arrived in Cotton Tree, the J&J bus parked across the highway, still preventing the other bus from passing.
In a press release issued on Thursday, July 27, The Department of Transport said that besides constituting a traffic violation, such behavior endangers the lives of passengers aboard the buses and other road users.