BELIZE CITY, Thurs. Aug. 17, 2017–Belizeans are keeping an eye on Tropical Storm Harvey, the 8th named storm for the 2017 Atlantic Hurricane season, which formed east of the Caribbean islands earlier today with winds of 40 miles per hour.
On its current track, Harvey is a concern for Barbados, Martinique, St. Lucia, and St. Vincent and the Grenadines, which could feel direct impacts tonight and tomorrow. Tropical storm warnings are now in effect for those territories.
Early next week, it could become a concern for Belize, Mexico, Honduras and Nicaragua – which are all within the 5-day cone of uncertainty.
The current track suggests that Harvey could pass through central Belize around Tuesday as a tropical storm, although a projection earlier today anticipated that it could reach hurricane strength before landfall here. However, it must be noted that it is too early to tell for sure whether Harvey will actually strike Belize, although authorities recommend that Belizeans continue to monitor its movements.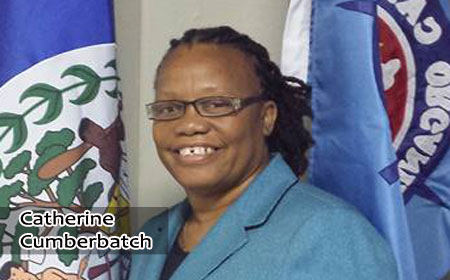 Information supplied to our newspaper by Chief Meteorologist, Catherine Cumberbatch says that Harvey was almost 300 miles east of Barbados around midday and heading west at 17mph. At the time, it was unnamed, since it only had maximum sustained winds of 35mph, but this afternoon, after a Hurricane Hunters mission was sent out to investigate, it was upgraded to a tropical storm and named Harvey.
Cumberbatch said that the latest run of the Global Forecast System (GFS) model is still showing the system weakening somewhat in the southeast Caribbean. After Harvey crosses the Caribbean islands, it is expected to encounter drier air, which could weaken it, but the storm could intensify if it moves further west into warmer waters, where there will also be lighter windsheer and therefore less resistance.
Alternatively, upper level winds could steer the storm north and weaken it, especially if it continues at a fast pace.
"We still don't know which scenario will play out," Cumberbatch said.
"One good thing is that if it strengthens significantly, it will likely turn more north under the influence of an upper low to its west. If it remains weak, then it will likely continue moving west towards Belize," said the Chief Meteorologist.