BELIZE CITY, Mon. Dec. 16, 2019– With a 1-1 draw in the Premier League of Belize (PLB) 2019-2020 Opening Season Final game 1 a week ago at the Isidoro Beaton Stadium in Belmopan, yesterday's Final game 2 at the Norman Broaster Stadium was "for all the marbles" between home standing Verdes FC and visiting Bandits Sport from the capital city. Notably absent from the jam packed stadium was Bandits owner/Minister Hon. John Saldivar, who had been gracious in accepting the second place trophy in the previous season to then champions San Pedro Pirates FC. Saldivar was nowhere to be seen this time around, with Bandits manager Kenneth Budna receiving the club's $5,000.00 check for second place, after a 2-nil loss to Verdes. (The champs, Verdes, received a check for $15,000.00) Notable also was the image of veteran striker Jerome "Jarro" James delivering what proved the winning goal against his former team, the Bandits.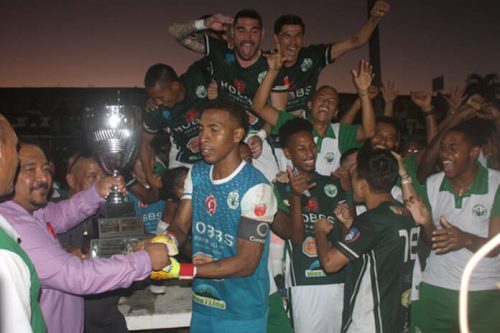 Verdes captain Woodrow West receives championship trophy from FFB President Sergio Chuc
A number of former Bandits players are now playing with Verdes, and a number of former Verdes players are presently on the Bandits register, so it was a natural possibility that one of those players would be instrumental in the victory against his former team.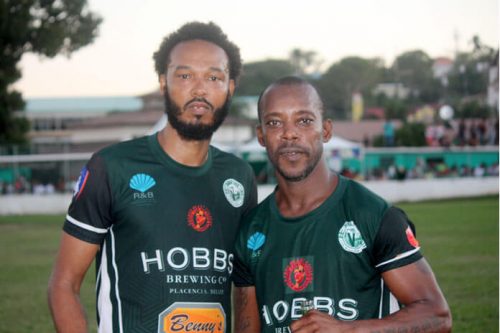 "The stone that the builder refused," Verdes' Jerome "Jarro" James (left) and Elroy Smith (right) both scored on their former team, the Bandits
After a number of years and many championships with the Belmopan Bandits, and several outings with the national team, Jarro, who had scored many important goals, and been dubbed by TNC broadcaster Raynard Garbutt as "the most dangerous man in the PLB" for his goal scoring exploits in critical situations, it was surprising when he was cut from the Bandits' roster last season, and there were rumors that their parting had not been without some friction.
Yesterday, in the Big Finale at the Norman Broaster Stadium, Jarro received a huge vote of confidence from Verdes' Peruvian coach Cesar Martin Dall'Orso, who put the veteran Jarro in his starting lineup, joining young Krisean Lopez as twin strikers for the "Green Machine." And Jarro delivered. A powerful right-foot drive from midfielder Edwin Bernal may have had some "English" on it, and the pitch at Norman Broaster is uneven in some places, and when it bounced in front of goal and into the chest of Bandits' goalkeeper Shane Moody Orio, Shane couldn't get a grip on it, and the ball rebounded a few feet from off his body, just enough for the alertly charging and leaping Jarro James to strike with a precise header into the right corner; 1-nil, Verdes at the 20th minute; and the hundreds of rabid Verdes fans exploded in jubilation!
Bandits had a clear opportunity to equalize about 6 minutes later, but their shortcoming in the striking department became obvious when converted midfielder Jefrie James got a solo break against Verdes' keeper Woodrow West, and Jefrie's feeble flick to the right corner was deflected by the agile West. Bandits got another chance to knot things up just before the half ended, when West came out of his goal to intercept a breakaway Roberto Silva De Lima at the edge of the eighteen, and there was too much contact for Guatemalan referee Brian Lopez; penalty! But West guessed correctly, and dived to his left to stop Silva's low shot to the right corner. Pushing the ball to the side, West then raced to collect it, and was fouled hard by incoming Bandits midfielder, Danny Jimenez, whose yellow card would come back to seriously hurt the Bandits.
The two teams are a good match, but Verdes had the edge in the finishing department, and perhaps also in midfield, where the Denmark Casey – Jordy Polanco tandem created many a headache for the Bandits defense. The Bandits also had no answer to the speedy and highly skilled Krisean Lopez, except to "cut him down," and they did that often; too often, it turned out, as the yellow cards became a red early in second half when Danny Jimenez tried to stop a darting Krisean, and his harsh tackle resulted in a second yellow, and thus a red card ejection. Both Krisean for Verdes, and the superb veteran Georgie Welcome for Bandits frequently retreated to bolster their respective team's battle in midfield; but the difference in the game turned out to be in the James's. Jefrie is not a striker, and that was proven yesterday; while Jarro may be "lucky" to score goals, but that is what a striker does. When Jefrie's desperate attempt from long range went screaming wild off target, Bandits coach Kent Gabourel immediately got his substitute striker Highking Roberts and midfielder Humberto Requena warming up; but Verdes quickly responded with the veteran Ricardo "Cheety" Jimenez to replace tactician Jordy Polanco with more muscle the rest of the way. And eventually, predictably, the Krisean cut-down routine resulted in a penalty for Verdes; and sweeper Elroy Smith made no mistake from the 12 yards spot; 2-nil, Verdes at the 89th minute, and the party really started among Verdes fans, who could feel the victory now. Before the long whistle, in a symbolic gesture of appreciation to both players, Verdes coach Cesar Martin let his league leading scorer Mariano Landero into the game to replace the triumphant Jarro.
Goals: Verdes – Jerome "Jarro" James (20') and Elroy Smith (89' PK).
Champions, Verdes FC: #27 goalkeeper © Woodrow West; #99 Evral Trapp; #6 Elroy Smith; #15 Norman Anderson; $14 Darrel Myvett; #11 Jahron Myvett; #12 Denmark Casey; #16 Jordy Polanco (#8 Ricardo Jimenez at 70'); #33 Edwin Bernal; #35 Jerome James (#9 Mariano Landero at 90'); #25 Krisean Lopez. Coach – Cesar Martin Dall'Orso.
Sub-Champions, Bandits SC: #1 goalkeeper Shane Moody Orio; #19 Trevor Lennan; #13 © Dalton Eiley; #17 Ian Gaynair; #2 Carlos Urtilla; #7 Nahjib Guerra (#21 Humberto Requena at 64'); #10 Roberto Silva De Lima (#14 Andres Makin, Jr. at 74'); #8 Kevin Vicente Guevara; #16 Daniel Jimenez; #5 Jefrie James (#4 Highking Roberts at 64'); #9 Georgie Welcome. Coach – Kent Gabourel.
Officials: Referee – Brian Lopez (Guatemala); Assistants – Julian Diaz (Guatemala) and Rene Cifuentes (Guatemala); 4th Official – Juan Colindres (Belize).
Feature photo: Bandits' Georgie Welcome (left) challenges Verdes' Jordy Polanco (center) as teammate Edwin Bernal (right) comes to support