BELIZE CITY, Mon. Jan. 28, 2019– They were tied in points at the end of last regular season, and Verdes FC and defending champion Bandits Sport are both still undefeated at Week 3 of the Premier League of Belize (PLB) 2018-2019 Closoing Season; but with their third straight victory, Verdes (9 pts) has opened a sizable standings lead over the Bandits (4 pts), who were held to their second draw in the young season. The berth in the Concacaf Champions League belongs to the champion with the most cumulative points in the Opening and Closing Seasons. Both Verdes and Bandits were tied with 33 pts at the end of the PLB 2018-2019 Opening Season, which Bandits won. Should Verdes maintain their standings lead until the end of this regular season, they could secure the Concacaf berth by also winning the Closing Season championship. If another team wins the Closing Season championship, it is likely that the Concacaf berth would belong to the Bandits, who sported a big lead in points over the six other teams at the end of Opening Season regular competiton. So, there is a championshnip to be won in this Closing Season, but there is also a regular season points race going on between aspiring champion, Verdes FC and defending champion, Bandits Sport. (See the Opening Season regular season final standings below.)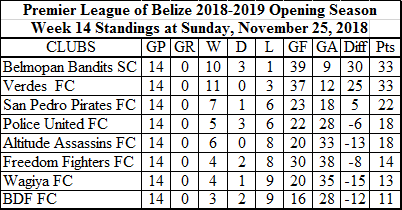 In Closing Season Week 3 results, on Saturday night at Ambergris Stadium, visiting Police United FC got a first half goal from Jerome Belisle (41') and held on to secure the 1-nil win, their first of the season, against San Pedro Pirates FC. Meanwhile, at the Isidoro Beaton Stadium, home standing Bandits Sport could not hold on to an early lead through newly acquired Daniel "Danny" Jimenez (11'), as BDF FC got the 1-1 equalizer by Osmar Duran (39' PK) from the penalty spot.  It was the Bandits' second draw this season; they drew, 1-1, with Wagiya Sporting Club in the season opener at the Isidoro Beaton.
Sunday afternoon at the Norman Broaster Stadium saw Verdes FC maintaining a perfect "3 and 0" record, as second half goals from Jarret Davis (67') and Elroy Smith (89' PK) gave them the 2-0 win over visiting Freedom Fighters FC from Punta Gorda. Meanwhile, down south at the Carl Ramos Stadium, the home team Wagiya Sporting Club was shocked by 2 early goals from Andres Orozco (3' & 13') of visiting Assassins Altitude FC from Placencia. Wagiya got a late goal from Highking Roberts (83'), but the Assassins held on for the 2-1 road win.
Below are the current Week 3 standings, followed by Weeks 4 & 5 schedule.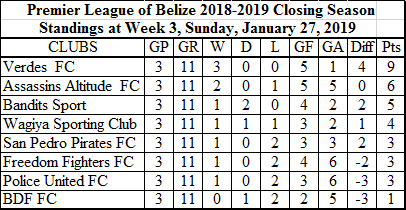 Week 4 schedule:
Saturday, February 2
7:30 p.m. – Assassins Altitude FC vs San Pedro Pirates FC  –  M.A. Stadium
Sunday, February 3
4:00 p.m. – Freedom Fighters FC vs Bandits Sport  –  Victor Sanchez Union Field
4:00 p.m. – BDF FC vs Verdes FC  –  MCC Grounds
4:00 p.m. – Police United FC vs Wagiya Sporting Club  – Isidoro Beaton Stadium
Week 5 games:
Saturday, February 9
7:30 p.m. – San Pedro Pirates FC vs Wagiya Sporting Club  –  Ambergris Stadium
7:30 p.m. – Assassins Altitude FC vs Police United FC  –  M.A. Stadium
8:00 p.m. – Bandits Sport vs Verdes FC  –  Isidoro Beaton Stadium
Sunday, February 10
4:00 p.m. – Freedom Fighters FC vs BDF FC  –  Victor Sanchez Union Field